Tuesday afternoon we were given the opportunity to visit West Kelowna's very own Cove Lakeside Resort. We were greeted with friendly faces and provided refreshments while we awaited the arrival of the other tour group. Representative of The Cove, Leasa Kennedy was an exceptionally accommodating host, as she guided us through all the amenities The Cove has to offer.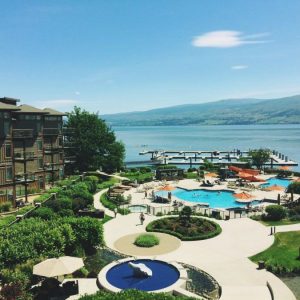 We were shown a variety of rooms, including one, two and three bedroom suites. The views from the balconies were breathtaking, and the rooms themselves were spacious and elegantly designed.
The grounds provided the illusion of being on a tropical escape, as the outdoor pools and lake view can even make a local feel as though they have been transported to the perfect getaway. The resort includes two heated pools, a marina, a spa, beautiful gardens and much more.
The tour came to a close in the Grande Suite, where the tour groups were provided with locally produced, farm-to-table pizza and ice cream sandwiches, as well as wine from Quail's Gate. Upon receiving knowledge of dietary restrictions, the staff went above and beyond to accommodate us by providing us with a complimentary meal at their very own Bonfire Grill restaurant. The Wild Seafood Grill dish was not only delicious, but a perfect way to end a fantastic tour!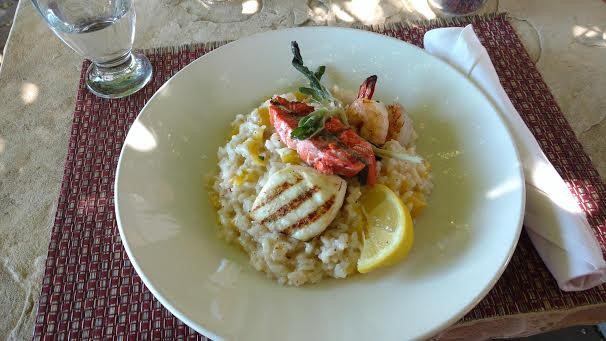 – The West Kelowna Visitor Center Staff
Throughout the year the West Kelowna Visitor Centre Staff goes of FAM tours of local tourism businesses, so they can pass along their first hand experiences to visiting tourists. If you have any questions about our accommodations, attractions, or amenities, contact the Visitor Centre at wkvisitorcentre [at] gmail.com or 250.768.2712. You can also stop by the Visitor Center, which is housed in the Westbank Museum at 2316 Dobbin Rd (Hwy 97).