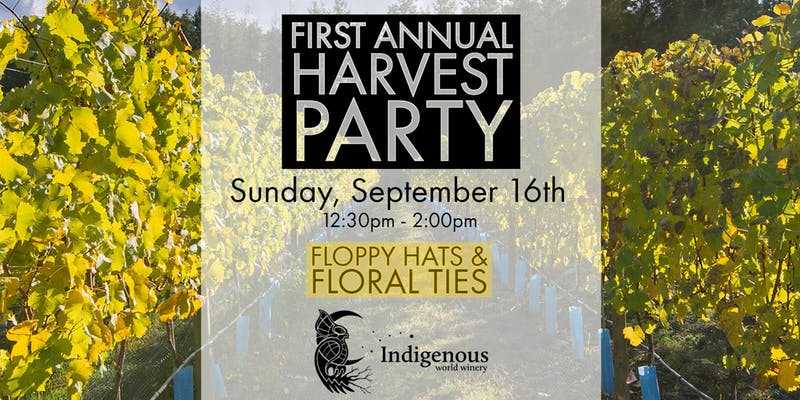 First Annual Indigenous World Harvest Party
THIS EVENT HAS PASSED
Indigenous World Winery Production Facilities
675 Katherine Rd, West Kelowna, BC
VIEW MAP
DESCRIPTION
Indigenous World Winery is hosting our First Annual Harvest Party right in our vineyard! The 2018 theme is Floppy Hats & Floral Ties, so be sure to dress up. Prizes will be awarded for the best dressed couple and we have some really fun wines to give away. Best floppy hats and floral ties take the cake!
The Arrival:
After arriving at the production facility on Katherine Road we will begin with a short welcome announcement from our Wine Club & Events Coordinator, Tonia McArthur, who will introduce some of our guest speakers and very important people joining us for this special event. One of which will be our winemaker, Jason Parkes, who has decades of experiencing and has won hundreds of awards because of his dedication and passion for his craft. We are proud to have him in attendance for our Harvest Party, showing us just a glimpse of how our wines are made and why they're so special. Next we'll take a tour of the winery and vineyard.
The Vineyard:
Our Vineyard Managers will walk us through the vineyard showing us the differences between each of the three clones grown on site. Next, we'll discuss some of the background about the vineyard itself and why we chose to plant where we did.
Afterwards, samples of freshly pressed juice from our Estate Grown Muscat will be offered as well as a sampling of semi-fermented Muscat which will eventually become our 2018 vintage!
The Long Table:
Chef Andrea of the Red Fox Club is preparing Charcuterie paired with our SOLD OUT 2016 Estate Muscat, our first vintage of our estate grown grapes, as well as our 2017 vintage. This will be served as we settle into our seats at the long table with the Indigenous World Winery estate vineyard as our backdrop.
Our General Manager, Ryan Walley, and our winemaker, Jason Parkes walk us through the different styles of Muscat clones we grow and what to expect from these vineyards in the future.
Additional glasses of wine will be available for $5.00 a glass.
The Prizes:
The best dressed couple in floppy hats and floral ties will win a beautiful arrangement of wines to wrap up our afternoon.
**Disclaimer: A photographer will be on site taking photos throughout the event. A Photo Release Form will be emailed to you once your tickets are purchased for you to fill out and email back to our events coordinator.
**Tickets are non-refundable
TICKETS: https://www.eventbrite.ca/e/first-annual-indigenous-world-harvest-party-tickets-49721652802?ref=estw
---
---