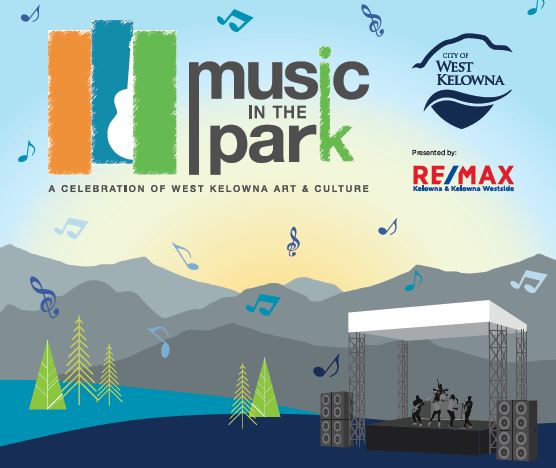 Music in the Park 2019
Date List
This event occurs Weekly
Fri June 28, 2019
Fri July 05, 2019
Fri July 12, 2019
Fri July 19, 2019
Fri July 26, 2019
Fri August 02, 2019
Fri August 09, 2019
Fri August 16, 2019
Fri August 23, 2019
Fri August 30, 2019
Memorial Park
3737 Old Okanagan Hwy
VIEW MAP
Music in the Park
Music in the Park is a celebration of West Kelowna art & culture and it can be enjoyed at Memorial Park on Friday nights in July and August from 6:30 pm – 9:00 pm.
Bring your lawn chairs, come and enjoy some great Music in the Park! Food trucks are onsite each week. As well, the City of West Kelowna Parks and Recreation staff are at the park with outdoor play games for kids to enjoy.
The Annette Beaudreau Amphitheatre Memorial Park is located at 3737 Old Okanagan Hwy, next to Johnston-Bentley Pool.
Each night 6:45pm Emerging Artist | 7:00pm Opening Act | 8:00pm Headliner
June 28: JS Garcia Bank (pop/rock covers) | The Insiders (pop)
July 5: Mason Burns Band (retro rock and roll) | Nuela Charles (alternative soul)
July 12: Enjoy the Music of Westside Daze!
July 19: Andrew Judah (art rock) | Daysormy (alternative)
July 26: Michael Daniels (new country) | Crystal Shawanda (blues/roots/country)
July 27: Keala Morazain (pop/jazz/covers) | Shawn Lightfoot Band (rock/country/pop covers)
August 2: Westbank Country Opry
August 9: Post Modern Connection (indie soul) | Apollo Suns (instrumental rock/jazz)
August 16: The Heels (country) | Kentucky Eileen (fold/bluegrass)
August 23: Becca Mabbett (singer/songwriter) | Under the Rocks (bluegrass)
August 30: Black Cat Soul (blues/roots/soul) | Kenny 'Blues Boss' Wayne (boogie woogie/blues)
---
---