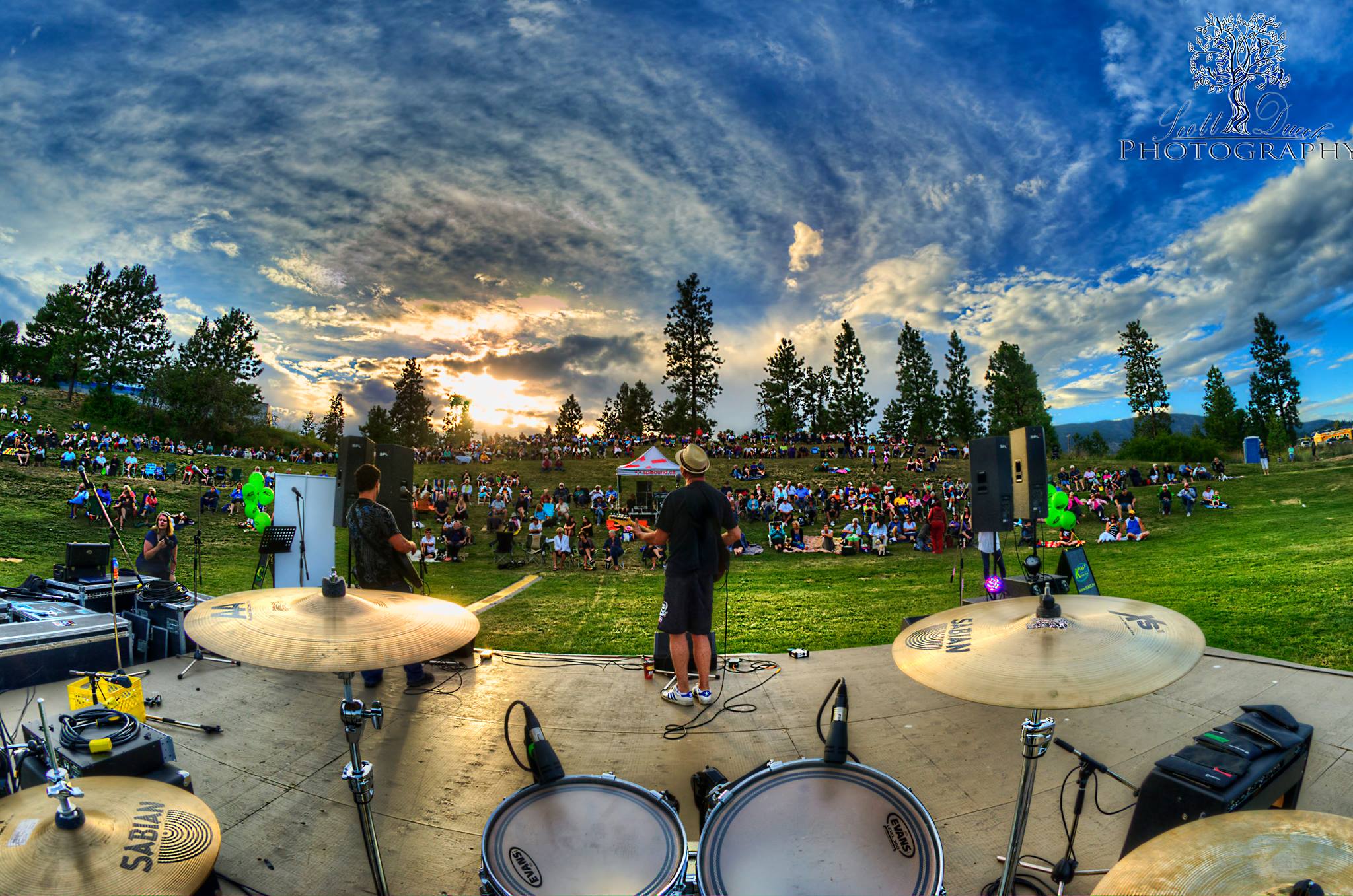 Music in the Park
Date List
This event occurs Weekly
Fri July 06, 2018
Fri July 13, 2018
Fri July 20, 2018
Fri July 27, 2018
Fri August 03, 2018
Fri August 10, 2018
Fri August 17, 2018
Fri August 24, 2018
Memorial Park - West Kelowna
3737 Old Okanagan Highway West Kelowna, BC Canada
VIEW MAP
The 2018 Music in the Park Schedule
Take in free concerts on most Friday nights in July and August at the Annette Beaudreau Amphitheatre in Memorial Park. Enjoy the exceptional talent of Okanagan artists as they perform on stage before a spectacular backdrop of Okanagan Lake and the Monashee Mountains.
Bring your own blanket and maybe an umbrella in the event of light rain, and leave a bit of extra time to find parking. Vendors are located on site for those looking to buy a snack or refreshments at the show.
** concert still is a go with light rain. If heavy rain, thunderstorms or forest fire burning, a decision will be made by 6pm if the concert will continue.
Evening Lineup for most nights
Emerging Artist at 6:40 p.m.
Opening act at 7 p.m.
Headline act at 8 p.m.
JULY 6
Headline Act: Kenny Blues Boss Wayne – Boogie Woogie/Blues
Opening Act: Black Cat Soul – Blues/Roots/Soul
Emerging Artist: Luscas Wentworth
JULY 13
Headline Act: The New Groovement – Funk/Soul/Hip-Hop
Opening Act: Proper Man – New Wave
Emerging Artist: TBD
JULY 20
Headline Act: The Wheely Nawties – Rock/Country
Opening Act: Soulmen Duo – Blues Brothers Tribute
Emerging Artist: Laura Close
JULY 27
Headline Act: Sue Foley Band – Blues/Roots
Opening Act: Joshua Smith – Folk
Emerging Artist: Shaeden Hoz
AUGUST 3
Headline Act: Sammi Morelli – Pop/Soul/Electronic
Opening Act: The Carbons – Groove Rock
Emerging Artist: Niki Kennedy
AUGUST 10
Headline Act: Tiger Moon – Groovy Folk
Opening Act: Under the Rocks – Bluegrass
Emerging Artist: TBD
AUGUST 17
Headline Act: Oktopus – Quebecois Klezmer
Opening Act: Impavid – Funk/Folk
Emerging Artist: TBD
AUGUST 24
Headline Act: Ben Klick – New Country
Opening Act: Jackson Hollow Trio – Bluegrass
Emerging Artist: Shaughnessy Rose
---
---