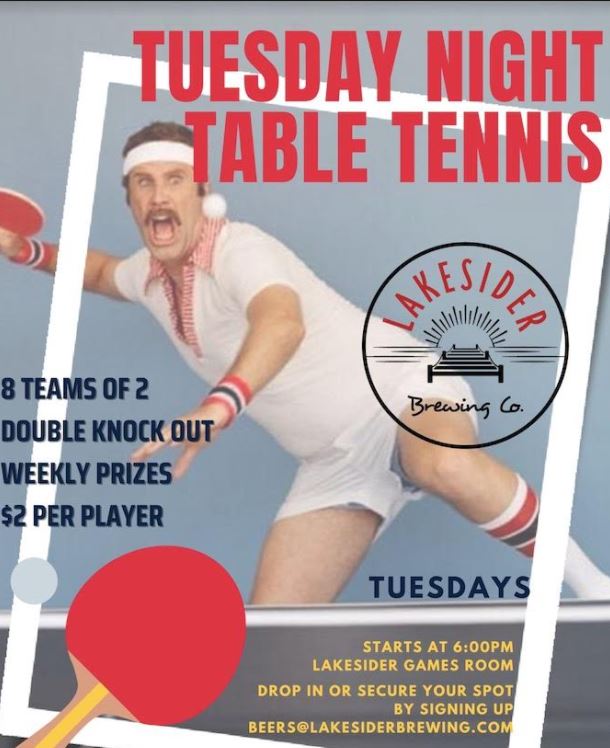 Ping Pong @ Lakesider
Date List
This event occurs Weekly
Tue January 18, 2022
Tue January 25, 2022
Tue February 01, 2022
Tue February 08, 2022
Tue February 15, 2022
Tue February 22, 2022
Tue March 01, 2022
Tue March 08, 2022
Tue March 15, 2022
Tue March 22, 2022
Tue March 29, 2022
Tue April 05, 2022
Tue April 12, 2022
Tue April 19, 2022
Tue April 26, 2022
Tue May 03, 2022
Tue May 10, 2022
Tue May 17, 2022
Tue May 24, 2022
Tue May 31, 2022
Tue June 07, 2022
Tue June 14, 2022
Tue June 21, 2022
Tue June 28, 2022
Tue July 05, 2022
Tue July 12, 2022
Lakesider Brewing Co
835 Anders Rd,West Kelowna, BC, ,
VIEW MAP
Join us for craft beer and ping pong! Bring your appetite and ping pong skills and come join this fun yet casual event on Tuesday evenings from 6-8pm.
Paddles & balls provided
Skill level: Intermediate
$2 per person
Double knockout bracket
Prizes and trophy awarded each week!
Event Date:
Every Tuesday, 6-8pm
Event Cost:
$2
---
---