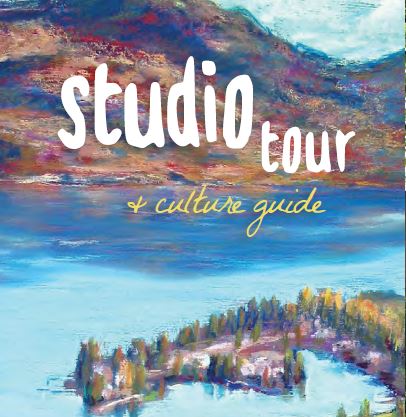 Studio Tour
Address
elk rd, west kelowna
VIEW MAP
Studio Tour, Galleries, Sculptures and Murals
Spend the afternoon taking in a self-guided tour of some of West Kelowna's best art studios and galleries. Many area studios are only part-time or by appointment so it is best to call ahead to see if they are open.
Our community also has several sculptures and murals, several which reflect the culture of our Indigenous People.
Download a printed brochure and map or use our mobile-friendly mapping system to chart your course!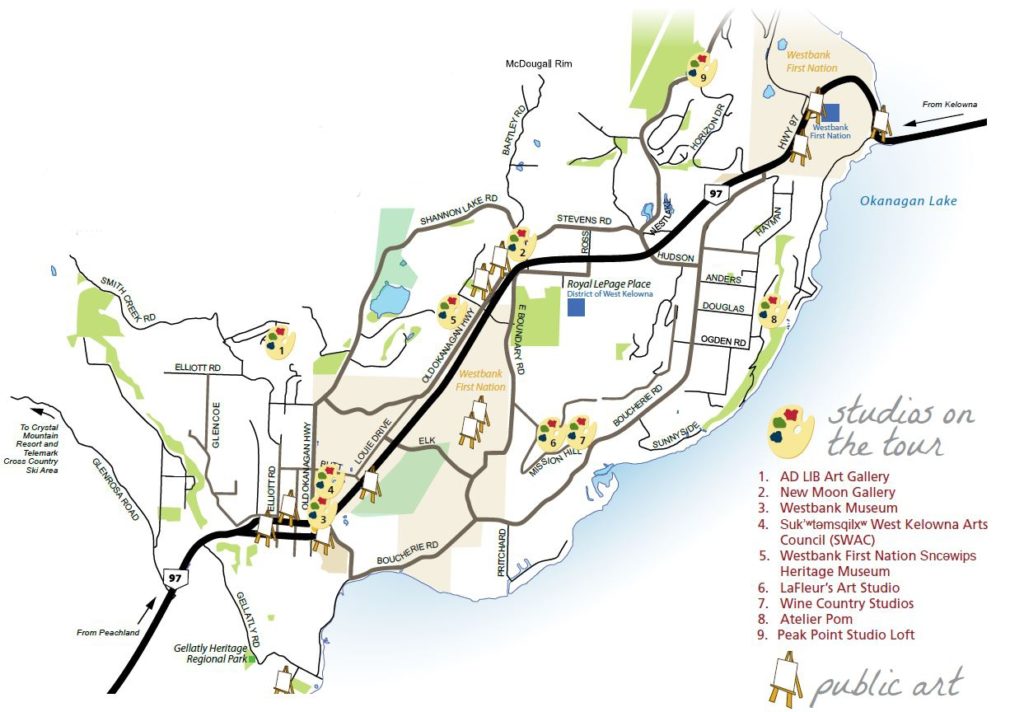 Public Art Locations
Okanagan Treasure




Artist: Frances Bezeau




Gellatly Nut Farm




2375 Whitworth Rd

Coyote Sculpture
Artist: Smoker Marchand
Hwy 97 & Campbell Rd (at bridge)

Our Westside History (mural)
Artist: Gerry Houghton
Dobbin Rd (Hwy 97)

CNB School Mountie (mural)
Artist: Dean Lauze
2010 Daimler Rd

Medicine Bear
Artist: Smoker Marchand
Hwy 97 & Butt Rd

Lake Serpent
Artist: Clint George


WFN Health & 

Wellness Centre


1900 Quail Lane

Turtle Island/Four
Food Chiefs/Four Elements
Artist: Clint George
Sensisyutsen House of Learning
920 Quail Lane

Four Food Chief Medallion
Artist: Janine Lott
WFN Health & Wellness Centre
900 Quail Lane

Harmonizing Mother Earth
Artist: Graham Pettman
WFN gvt. buildings
201-515 Hwy 97

Hudson's Bay Co Fur Brigade Cairn




Hwy 97 & Old Okanagan Hwy

Sculpture on Main
Artist: Ken Blackburn
Main Street (Hwy 97)

Faces of Youth
Artist: Jock Hildebrand
Dobbin Rd (Hwy 97)

Elk
Artist: Smoker Marchand
Hwy 97 & Butt Rd

Ogopogo
Artist: Smoker Marchand
Okanagan Lake Landing
Shopping Centre
525 Hwy 97 South
---
Other Listings You Might Like