Wine touring in the Okanagan  – yes the wineries are open!
Living in the Okanagan can be difficult at times (sarcasm noted here, who are we kidding, it is awesome here!). Our winters are pretty mild comparatively, and our summers heat up. This heat does come with  some downfalls, particularly when smoke from wildfires gets into the mix, being outside isn't ideal. If smoke is putting a damper on your vacation (or staycation), one of the best Okanagan experiences to enjoy is a wine tour. You do not have to spend much time outdoors on a wine tour and risk coughing up a lung. Even if you aren't a fan of wine, you may find yourself enthralled with the wine culture and sense of place that Okanagan wineries embody. Every winery has a different story.
To get the full winery experience, I strongly recommend touring with a guide.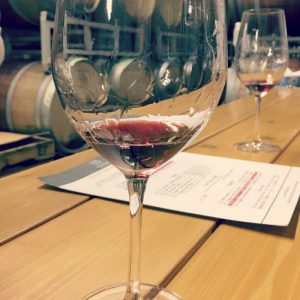 Wine tour guides do all of the hard work for you. They drive you and your party in comfortable, air-conditioned vehicles (through normally irritating summer traffic). The information that the guides provide you goes beyond wine – they have an expansive knowledge of the Okanagan valley geography, history, and culture. I have lived on the Westside for 23 years, and being on wine tours has taught me things I had never known about the place I call home.
Each wine touring company has something special to offer, but how to pick one? A few things to questions to ask and things to consider when selecting a wine touring company include:
Where will the pick you up from? Some only pick up from hotels and others will pick up at any local accommodations. BC has very strict drinking and driving laws so make sure you have a safe ride back to your accommodations after a day of sipping wine.
You will be in the vehicle for a good portion of the day, make sure it has air conditioning.
Safety comes first! Safety is big, make sure to ask if the company has their Passenger Transportation Number, National Safety Code Number, Liability Insurance, the vehicles are inspected and that the drivers have the appropriate driver's licensing (class 4 unrestricted).
If you have certain wineries that are on your 'must-do' list, make sure that the company you select has a set itinerary so your expectations are met. Make sure the company you choose can take you to the wineries you would like to visit.
If you are doing a tour with a lunch stop, confirm if the lunch is included in the cost of your tour or if is an additional cost.
Choose a tour company that matches your personality – it will make for a better experience.
Does the tour company offer other tours as well? You might enjoy your time with them so much that you might want to take another type of tour a different day!
We are here to help you with your wine touring needs (or other touring interests). Stop by our Visitor Centre and we can help you find a tour operator for your wine adventure!
---
Blog post contributors:
Darci – West Kelowna Visitor Centre & Westbank Museum
2376 Dobbin Rd | Phone 250-768-0110
Debbie Dupasquier – Distinctly Kelowna Tours
250-979-1211 | info@dstinctlykelownatours.ca