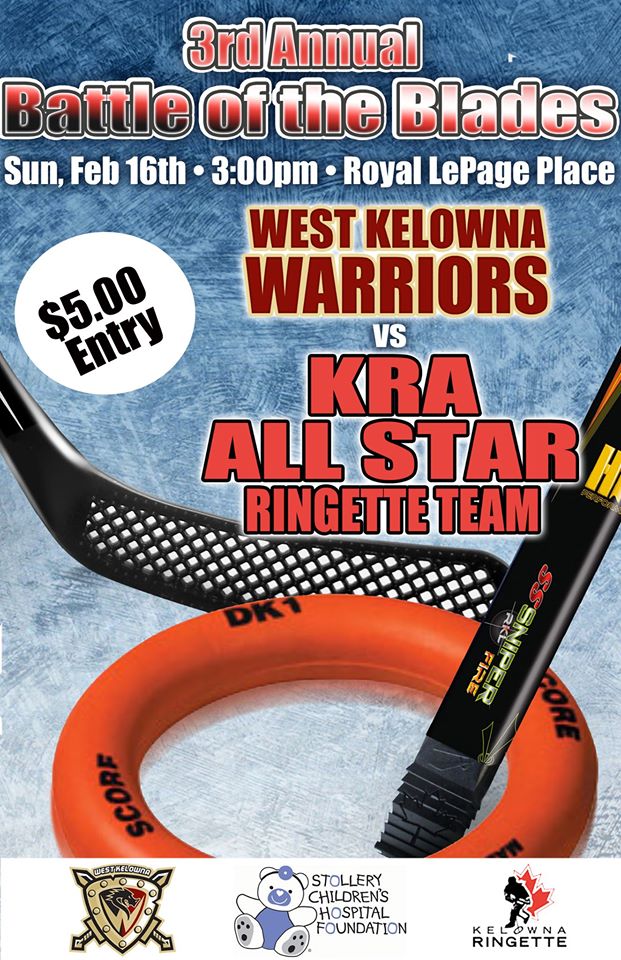 Battle of the Blades
THIS EVENT HAS PASSED
Royal LePage Place
2760 Cameron Rd,West Kelowna, BC, ,
VIEW MAP
The West Kelowna Warriors will ditch their curved sticks and puck for a ringette stick and ring.
The BCHL hockey team will get a chance to show off their ringette skills in the 3rd annual Battle of the Blades February 16th at Royal LePage Place. They will face off against a Kelowna Ringette all-star team made up of women 18 and over. The friendly game first began in 2013, however the stakes were raised when a Warriors staff member entered the competition. Grace Dixon, organizer of the event is the Community Liaison for the Jr A team and works closely with the players.
Admission is $5 with all proceeds going to the Stollery Children's Hospital Foundation. The Stollery is a Children's Hospital based out of Edmonton, Alberta. This foundation is particularly special to both parties because this is where the Warriors biggest fan and supporter, Brendan Ritchie is undergoing treatment for Pulmonary Hypertension. Pulmonary Hypertension is a condition where the blood flow that leaves the right side of the heart faces an increased resistance (pressure), this makes it hard for Brendan to perform high intensity exercise. The Stollery is a full-service pediatric hospital that treats infants, children and youth with complex conditions.
Donations will be accepted at the gate! If you cannot make it but wish to donate contact the Warriors office!
---
---