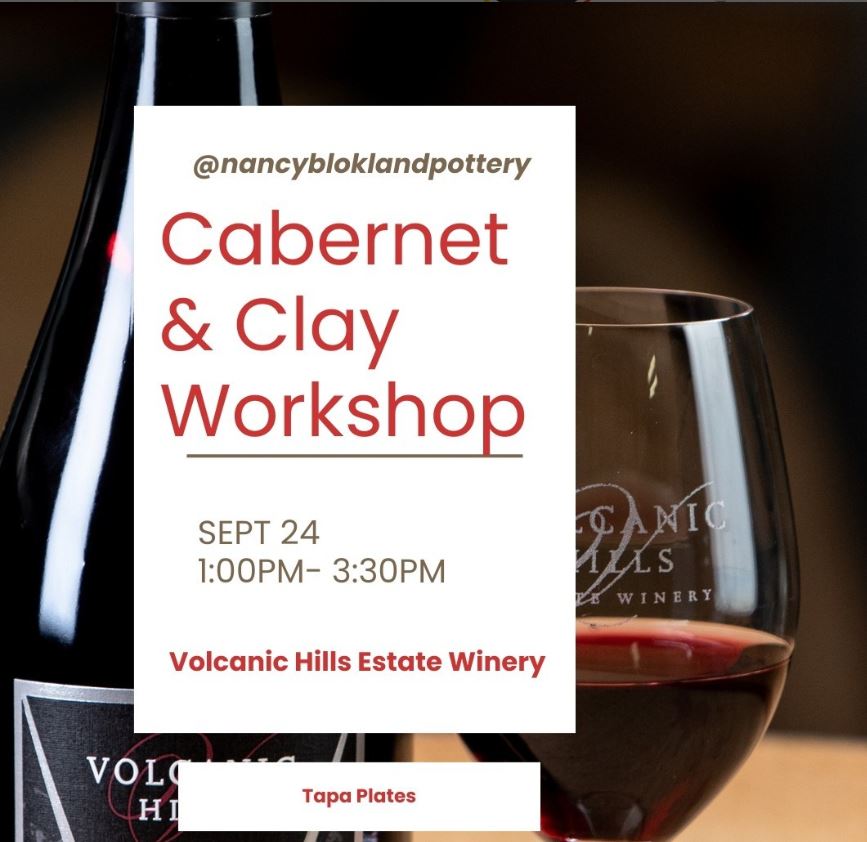 Cabernet & Clay Workshop
THIS EVENT HAS PASSED
Volcanic Hills Estate Winery
2845 Boucherie Rd ,West Kelowna, BC, V1Z 2G6, Canada
VIEW MAP
Join us for a 2 hour workshop working with clay to build yourself two Tapa Plates while sipping on Volcanic Hills wines! Your first glass of wine is included.⁠
Sunday, September 24th⁠
Wine Tasting 1:00pm – 1:30pm⁠
2 Hour Handcrafted Clay Workshop 1:30pm – 3:30pm⁠
⁠
Can I attend the workshop alone?⁠
Absolutely! We'd love you to come and connect with us, and hopefully walk away with a few new friends. We also love to host your celebrations so book for your whole group.⁠
⁠
Do I get to take home my work?⁠
You do, but you've got to wait about 2 weeks while Nancy glazes and fires your masterpiece!⁠
⁠
This course is for adults, all supplies provided. Participants can make their plates and decorate using textures and stamps to individualize them. Students will be able to pick from 4 glazes. The pieces will be fired, glazed, and returned to Volcanic Hills Estate Winery for pick up within two weeks.⁠
⁠
All pieces will be dishwasher, microwave and oven safe upon completion.⁠
Ticket information: https://volcanichillswinery.com/products/cabernet-clay-workshop-tapa-plates
---
---
Other Events You Might Like
Gellatly Nut Farm Tours
Oct 04 @ 1:00 pm - 2:45 pm
Nature Inspired Cards
Oct 04 @ 9:30 am - 11:00 am
Sip & Dip @ Urban Distilleries & Winery
Oct 05 @ 6:00 pm - 8:30 pm