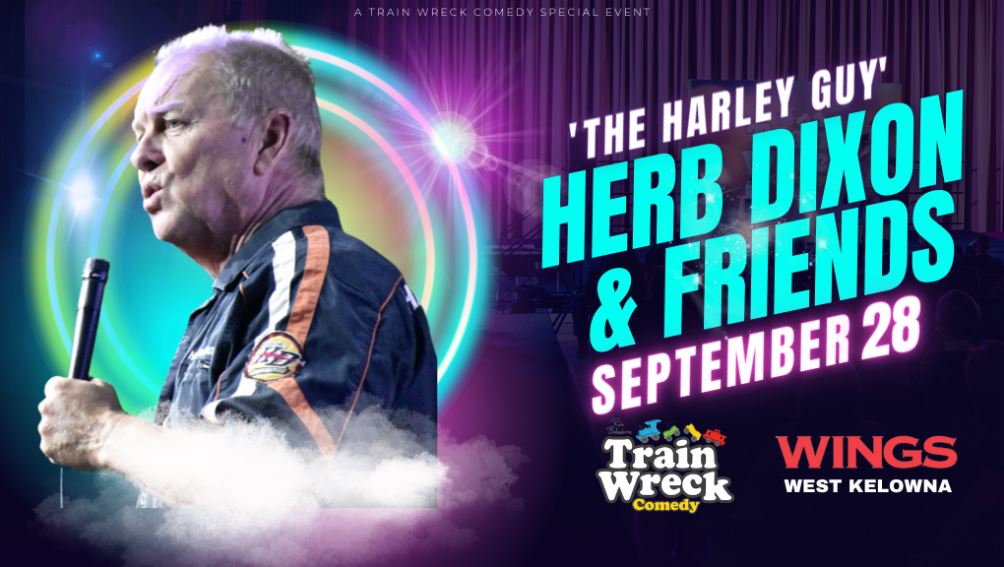 Comedy - Herb Dixon
THIS EVENT HAS PASSED
Wings West Kelowna
#1 - 2484 Main St,West Kelowna, BC, V4T 1P7,
VIEW MAP
Doors open at 5:30 PM
Show starts at 7:00 PM
'The Harley Guy' Herb Dixon
When it comes to nicknames, you don't get to choose your own! But let us tell you about someone who has the most awesome nickname ever: Herb Dixon, aka "The Harley Guy." This dude can impersonate a Harley Davidson like nobody else on the planet. How cool is that?
Let us give you the lowdown on Herb's epic journey. Not only did he rock the house at the massive 17,000-seat grandstand show during the Calgary Stampede, but he did it not once, but twice in 2002 and 2005. Talk about a crowd-pleaser! But that's not all. In 2003, Herb got the ultimate opportunity to showcase his Harley Davidson impression at the 100-year anniversary event in Milwaukee, where he shared the stage with the legendary BB King himself. Herb blew away the tough biker crowd and proved that his Harley impression was top-notch.
After that incredible experience, Herb hit the road and opened for some seriously big names. We're talking about opening acts for the likes of the Doobie Brothers, The Beach Boys, Blake Shelton, and LeAnne Rimes. That's quite an impressive lineup, isn't it? But the ultimate test came in 2009 when Herb opened for Kenny Chesney at the famous Sturgis Motorcycle Rally. Imagine the pressure, but Herb nailed it once again with his killer Harley impression.
For this awesome event, Herb won't be alone on stage. He's teaming up with the conductor of Train Wreck Comedy, Rob Balsdon, and the side-splitting Jamie Charest. Rob has been tearing up comedy clubs and theatres across the country for a whopping 20 years. He's shared the stage with comedy giants like Brent Butt, Gerry Dee, and Norm MacDonald.
As for Jamie Charest, he's a regular at all the major comedy clubs in Western Canada. His stand-up comedy style is all about self-observation, and he's even been featured on CBC Radio. And get this, he's performed alongside comedy legends like Tom Green, Tom Segura, and Steve O from Jackass.
Ticket info:
---
---
Other Events You Might Like
Gellatly Nut Farm Tours
Oct 04 @ 1:00 pm - 2:45 pm
Nature Inspired Cards
Oct 04 @ 9:30 am - 11:00 am
Sip & Dip @ Urban Distilleries & Winery
Oct 05 @ 6:00 pm - 8:30 pm