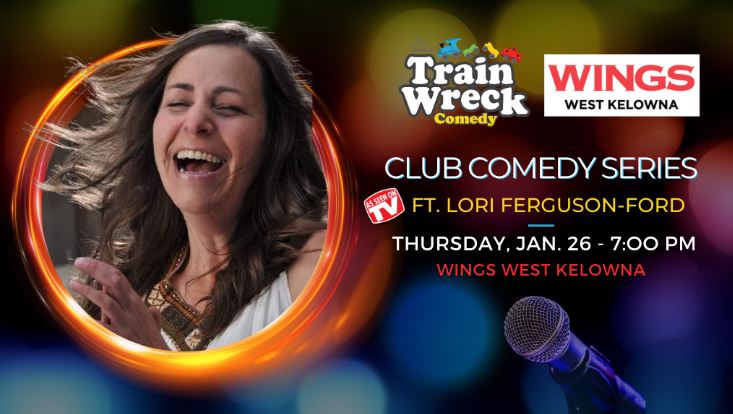 Comedy Night featuring Lori Ferguson-Ford
THIS EVENT HAS PASSED
Wings West Kelowna
#1 - 2484 Main St, West Kelowna, BC
VIEW MAP
The Club Comedy Series is thrilled to present Train Wreck Comedy favourite and one of the hardest-working road comics in Canada, Lori Ferguson-Ford, at Wings West Kelowna on Thursday, January 26.
Lori is a 35-year comedy veteran that began her love for comedy in 1988. Lori has been voted B.C.'s Funniest New Comic as well as B.C.'s Funniest Woman and has toured all over Canada and the United States, gracing the stages of Yuk Yuk's, The Improv, The Laugh Factory and the Comedy Store.
Lori has also made television appearances on CTV, CBC, WTN and The Comedy Network. Lori recently recorded an album with Just For Laughs and put out her own album called Antique Vag. Lori's down-to-earth style makes her a club favourite and a comedian you just have to see live!
Ticket info: https://www.trainwreckcomedy.com/tc-events/lori-ferguson-ford-at-wings-west-kelowna/
---
---