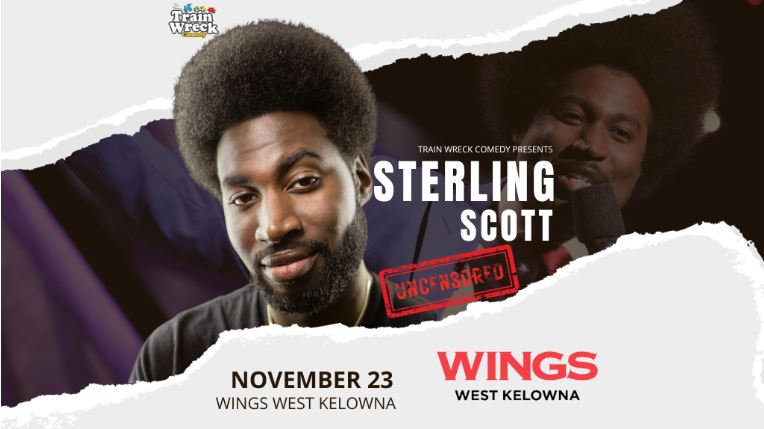 Comedy - Sterling Scott
THIS EVENT HAS PASSED
Wings West Kelowna
#1 - 2484 Main St,West Kelowna, BC, V4T 1P7,
VIEW MAP
Get ready to laugh your wings off as Train Wreck Comedy swoops back into Wings West Kelowna on Thursday, November 23, featuring the hilarious headliner, Sterling Scott, totally uncensored!
Buckle up for a rollercoaster of laughter with Sterling Scott, the dynamic comedian who's earned a reputation as the life of the comedy party. He's not just a comedian; he's a comedy supernova!
Sterling's comedy is a kaleidoscope of humour drawn from his wild adventures in relationships, the quirks of family life, his journey as a dad, bizarre world events, his offbeat take on life itself, and those side-splitting moments we've all experienced. Plus, he's taken his comedy to the frontlines, performing for our brave troops in Iraq, Kuwait, and Afghanistan.
Join us for a night of uproarious comedy that'll have you rolling in the aisles. Sterling Scott is here to turn your ordinary Thursday into an extraordinary laugh-fest!
Ticket info: https://www.trainwreckcomedy.com/tc-events/sterling-scott-wings-west-kelowna/
Other notable Credits:
2021 Stellar Comics (HBO Canada/Crave)
2021 Canada Roast Battles Season 1 (HBO Canada/Crave)
2021 Laugh After Dark season 3 (Amazon prime)
2020 Comedy Album released "Corporate Clean"
2019 San Francisco Comedy competition champion
2018 Just for Laughs premium blend
2018/2019 CBC Debaters comedy (Radio)
2017 Canada's Top Comic finalist (2nd place)
2017 Debut comedy album released "Stay Together"
2017 Winnipeg comedy festival
2016 Halifax comedy festival
2016 Signed by Kevin Hart and the LOL network for a development deal
2015 National televised performances on Winnipeg and Halifax comedy festival
2015 Writer and actor on "This hour has 22 minutes"
---
---
Other Events You Might Like
Live Jazz/Blues Wednesdays
Nov 29 @ 7:00 pm - 9:00 pm
Femme Fatale @ The Broken Hearts Club
Nov 30 @ 7:00 pm - 10:00 pm
Trivia Night @ Friends Pub
Dec 01 @ 7:30 pm - 9:00 pm