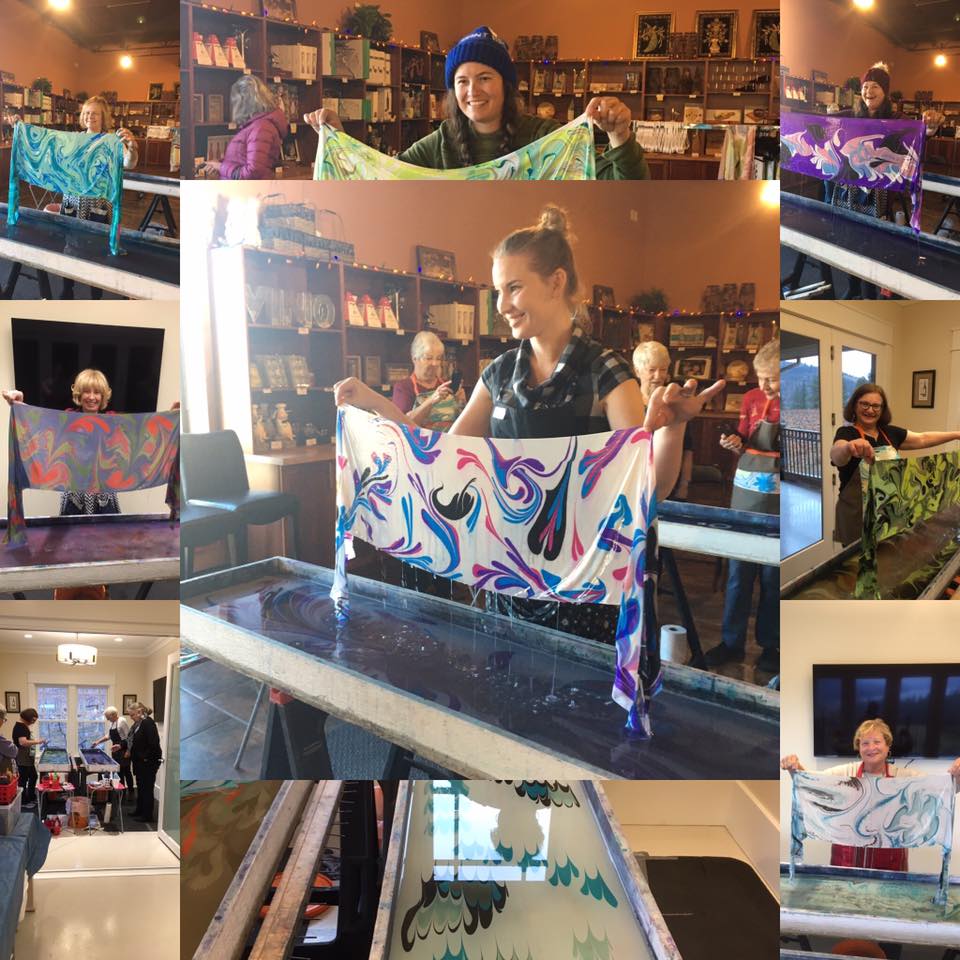 Create a Silk Scarf, Sip & Dip
THIS EVENT HAS PASSED
Volcanic Hills Estate Winery
2845 Boucherie Rd ,West Kelowna, BC, V1Z 2G6, Canada
VIEW MAP
Join us at Volcanic Hills Estate Winery for a 2 hour silk scarf workshop and create a piece of wearable art using the magic art of water marbling. If you can sprinkle cheese on a pizza, and write your name with a pencil you can create magic with us!!! Our workshop begins with a hands on demonstration of our art. Then each artist chooses their colours and floats the paint one drop at a time on the surface of the water. Then uses marbling combs, rakes, or stylus to create the design of their liking. Once your design is complete we will print it on your 14 inch by 72 inch silk scarf. You get to take home your wearable, washable art!
Tickets include all supplies to make your 14 inch by 72 inch silk scarf and a wine tasting, or sparkling juice tasting.
Workshop 1-1030am-1230pm
Workshop 2- 1pm-3pm
Workshop 3- 3pm-5pm
Maximum 8 participants per time slot.
ALL AGES WELCOME
For any questions regarding this event, please contact Krista from Colour Drop Design, directly.
colourdropdesign@hotmail.com
(250) 878-2452
Cost: $53
---
---
Other Events You Might Like
Live Jazz/Blues Wednesdays
Nov 29 @ 7:00 pm - 9:00 pm
Femme Fatale @ The Broken Hearts Club
Nov 30 @ 7:00 pm - 10:00 pm
Trivia Night @ Friends Pub
Dec 01 @ 7:30 pm - 9:00 pm