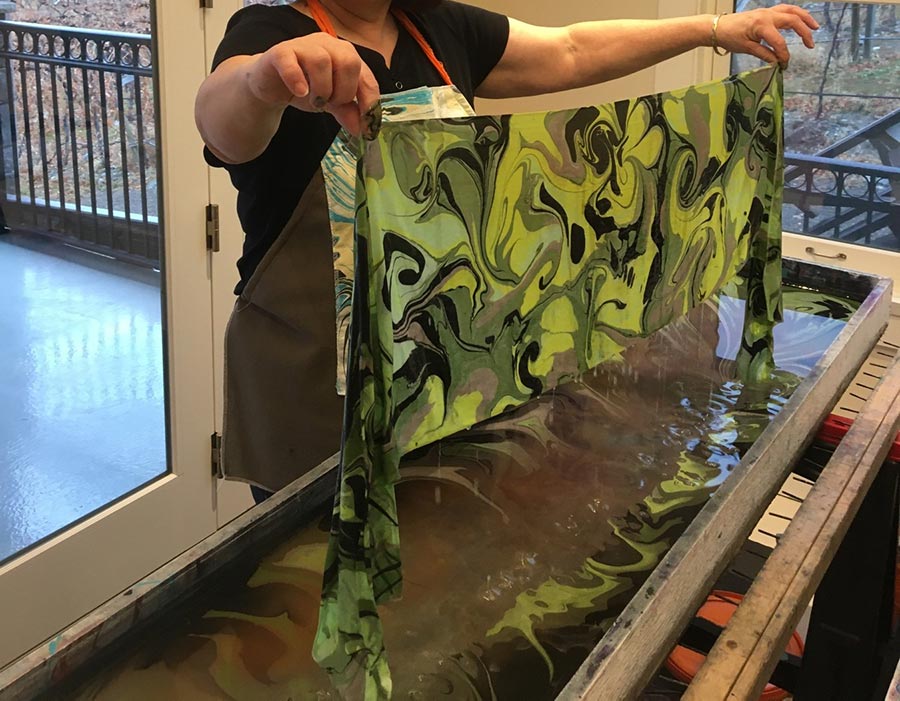 Create a Silk Scarf, SIP & DIP @ Volcanic Hills
Dec 05 @ 11:00 am - 5:00 pm
Volcanic Hills Estate Winery
2845 Boucherie Rd ,West Kelowna, BC, V1Z 2G6, Canada
VIEW MAP
Join us at Volcanic Hills Estate Winery for a 2 hour water marbling workshop and create a silk scarf.  This is an easy, fun, and magical artform!
Each workshop begins with a hands on demonstration. Each artist chooses their colours and floats the paint, one drop at a time, on the surface of the water, then uses marbling combs, rakes, or stylus to create the design of their liking. If you can put ketchup on a hot dog, you can do this art!
All tickets include a wine tasting. Cost $42.30 | Event dates and links to ticket information and workshop times below. Each date has three different workshop times you can sign up for.
Maximum 8 participants per time slot. | ALL AGES WELCOME
MASK REQUIRED for indoor workshops, unless the restrictions are lifted.
For any questions regarding this event, please contact Krista from Colour Drop Design, directly.
colourdropdesign@hotmail.com | (250) 878-2452
September 11: 1030am-5pm  https://www.eventbrite.ca/e/127617961759
September 12: 1030am-5pm  https://www.eventbrite.ca/e/166538355705
October 16 :1030am-5pm  https://www.eventbrite.ca/e/166539725803
October 17: 1030-5pm  https://www.eventbrite.ca/e/166540120985
November 6: 1130am-530pm  https://www.eventbrite.ca/e/166540580359
November 7: 11am-5pm  https://www.eventbrite.ca/e/166541292489
December 4:  1130am-530pm   https://www.eventbrite.ca/e/166542293483
December 5: 11am-5pm  https://www.eventbrite.ca/e/166543972505
January 8: 1130am-530pm  https://www.eventbrite.ca/e/166544161069
January 9: 11am-5pm  https://www.eventbrite.ca/e/166545340597
---
---