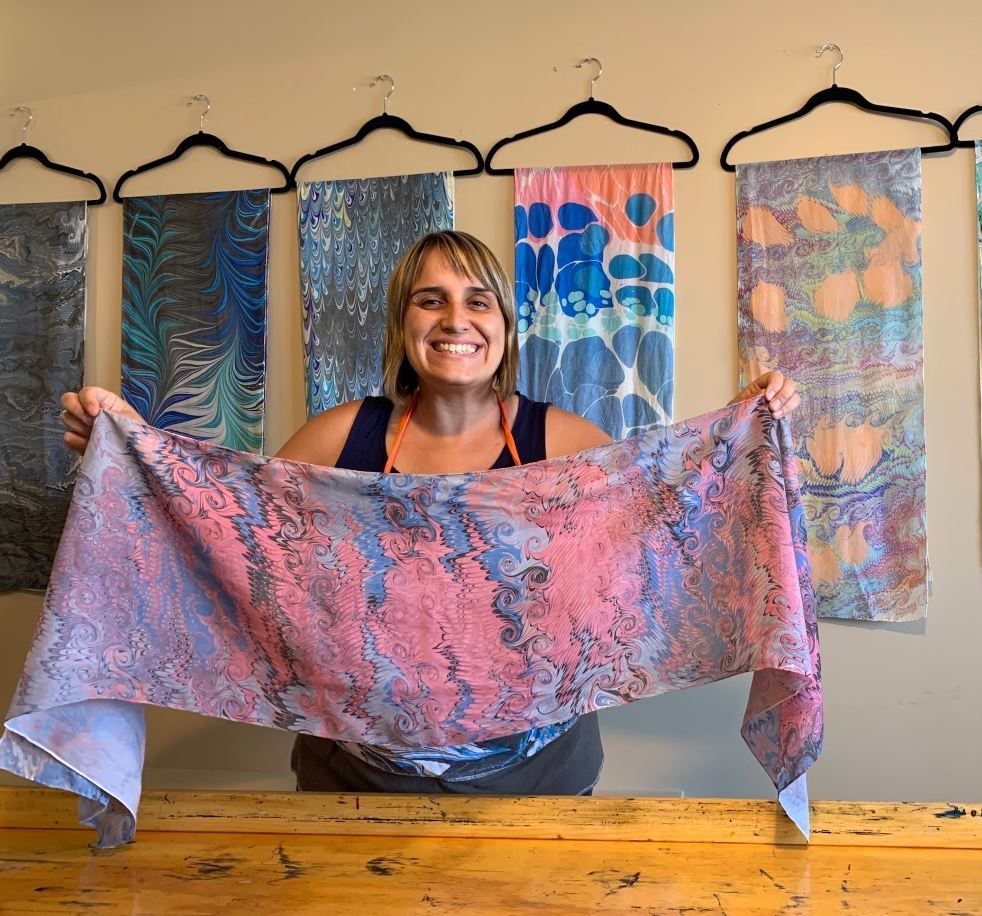 Create a Silk Scarf Sip & Dip Workshop
Apr 30 @ 10:00 am - 4:30 pm
Urban Distilleries & Winery
#402 - 1979 Old Okanagan Hwy,West Kelowna, BC, ,
VIEW MAP
Create a Silk Scarf, SIP & DIP Workshop at URBAN DISTILLERIES
Join us at Urban Distilleries to create a silk scarf with the beautiful, ancient art of water marbling to the 21st century by inviting you to be the artist. Come and make your own water marbled silk scarf.
Each workshop begins with a hands on demonstration. Each artist chooses their colours and floats the paint, one drop at a time, on the surface of the water, then uses marbling combs, rakes, or stylus to create the design of their liking. If you can put ketchup on a hot dog, you can do this art!
All tickets include all supplies to make a 14 inch by 72 inch silk scarf and a Glass of Rosé (6 oz) or a Caesar Cocktail. Urban Distilleries also has yummy food available on site! Menu here, https://www.urban-distilleries.com/shakers-cocktail-lounge-restaurant/#menu
Workshop 1-10am-12pm
Workshop 2- 1230pm-230pm
Workshop 3- 230pm-430pm
Maximum 8 participants per time slot.
INDOOR EVENT.
For any questions regarding this event, please contact Krista from Colour Drop Design, directly.
colourdropdesign@hotmail.com
(250) 878-2452 | Ticket Info: https://www.eventbrite.ca/e/create-a-silk-scarf-sip-dip-workshop-urban-distilleries-tickets-568713486347
---
---