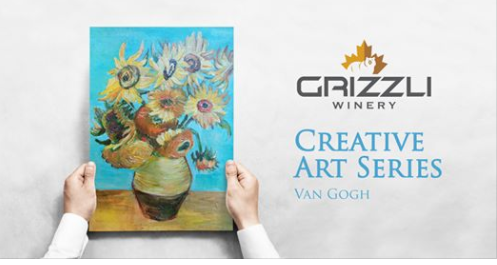 Creative Art Series - Van Gogh
THIS EVENT HAS PASSED
Grizzli Winery
2550 Boucherie Rd,West Kelowna, BC, ,
VIEW MAP
Unleash your inner artist with a guided painting workshop at Grizzli Winery!
Louise Lambert of Wine Country Studios will guide you from the very first brushstrokes, through to the completion of your new masterpiece. In these workshops, you'll recreate the art of some of the most influential painters in history, and it will be instantly recognizable as one of the masterpieces.
This small and intimate workshop begins with a mindfulness session, to bring your mind to a creative space. The workshop wouldn't be complete without a tour of Grizzli Winery, showing you a sneak peek at the creation process behind our award-winning wines. You'll pair your painting prowess with two glasses of wine and tasty tidbits, perfect for sipping while you create. After this workshop, you'll be led through a wine tasting, paired with an informative presentation.
This workshop focuses on Vincent van Gogh, a Dutch post-impressionist painter who is among the most famous and influential figures in the history of Western art.
Tickets are $68+tax, including all art supplies. Tickets can be purchased through Eventbrite, or by visiting the winery tasting room.
For more information email hello@grizzliwinery.com
We look forward to welcoming you!
---
---