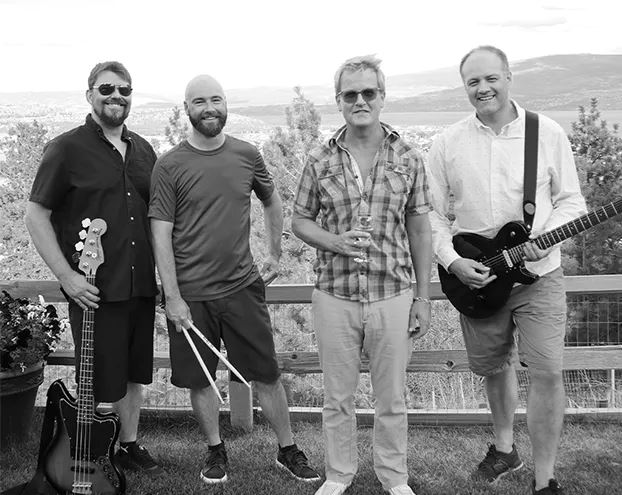 Golden Hour: Music in the Vineyard | Harshmellows
Sep 03 @ 7:30 pm - 9:30 pm
Grizzli Winery
2550 Boucherie Rd,West Kelowna, BC, ,
VIEW MAP
Join us for our Golden Hour: Music in the Vineyard Series!
Unwind and relax and spend your evening at Grizzli Winery's outdoor pavilion, surrounded by beautiful vineyards.
Ticket information: https://www.exploretock.com/grizzliwinery/event/272608
Schedule:
Friday, June 25– Kenny 'Blues Boss' Wayne Trio **SOLD OUT** – last show before he moves!
Join us for a performance to remember as Kenny 'Blues Boss' Wayne performs his last show before moving away. His powerful music recalls the era of piano players like Fats Domino, Amos Milburn & more. Joined by band members Russell Jackson on-base/vocals and John Modder drums/vocal.
Food Truck: Inferno Woodfired Pizza
Friday, July 9– Kinga
Kinga (Heming), Canadian Female Jazz Vocalist and pop chanteuse, is influenced by Natalie Cole, Diana Krall and Ella Fitzgerald. Kinga is a dynamic singer in the jazz scene with a beautiful voice that stirs the soul.
Food Truck: Surfside California Tacos
Friday, July 23– Lost N Found
Lost N Found is a five-piece country band from the Okanagan Valley. The band consists of lead singer Jordan Dubyna, guitarist/vocalist Mitch Glanz, mandolin player Zach Glanz, bassist Andrew Glanz and drummer AJ Carlson.
Food Truck: Inferno Woodfired Pizza
Friday, August 20– Rumour Mill
Rumour Mill is a Canadian-American indie duo headed by multi-instrumentalists Aline Daigle and Anna Katarina. The pair blend their classical jazz training with modern spirits to create an effervescent cocktail of indie-folk with strong twists of pop and country.
Food Truck: Street Eats
Friday, September 3– The Harshmellows
The Harshmellows, Okanagan locals, are a classic rock band who play music from the 70s, 80s, and 90s. The band consists of Don Courtney (vocals), Stuart Wright (guitar), Jaromi Bogaardt (bass) and Trevor Desautels (drums).
Food Truck: Inferno Woodfired Pizza
ALL ACCESS PASS: **SOLD OUT**
Purchase an all access gold ticket for 2 ppl for just $125; an all-access pass to all 5 concerts for you and a plus one. https://www.exploretock.com/grizzliwinery/event/272615/golden-hour-music-in-the-vineyard-all-access-gold-ticket
---
---