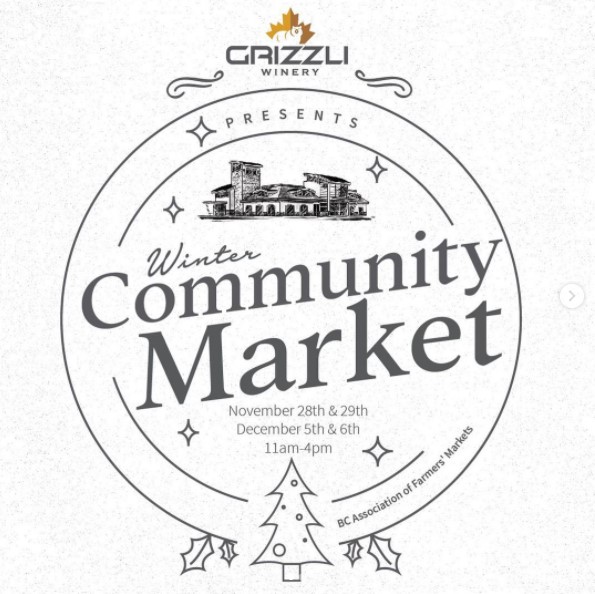 Winter Community Market
Date List
This event occurs Daily
Sat November 28, 2020
Sun November 29, 2020
Grizzli Winery
2550 Boucherie Rd,West Kelowna, BC, ,
VIEW MAP
Grizzli Winery is excited to host our Winter Community Market in West Kelowna! Join us for TWO festive weekends of shopping local artisanal goods and wine tastings.
We are greatly appreciative of BC Association of Farmers' Markets for their guidance and support in this Community Market. #InThisTogether #BuyLocal #BuyBC
Event Dates & Hours:
1st Weekend:
Saturday Nov 28: 11am-4pm
Sunday Nov 29: 11am-4pm
Feat. Beaver Tails Food Truck
2nd Weekend:
Saturday Dec 5: 11am-4pm
Sunday Dec 6: 11am-4pm
Feat. The Grumpy Chef Food Truck
**Please note that your RSVP is valid for the entire day**
This year we are proud to support the Canadian Mental Health Association of Kelowna and will be accepting donations.
COVID 19 Response:
Grizzli Winery is very mindful of COVID-19 and is continuously following Public Health Orders. Masks are Required for our Winter Community Market.
Local Vendors Partnered:
Blissful Belly Whole Food Co
Everything Wild
Hiveology
Marshmallow Alley
Mister Tea
Motherlove Ferments
RadJamz
Pilgrim Coffee Roaster
Sweet Bees
Sweet Jar Bakery
Art By Suzanne
Bash N Ellie
Benvenuto Doormats
Black Squirrel Canada
Body Om Ayurveda Bodycare
Cinnamon Stix Crafts
Creations by Chris
Ebb & Flow Jewelry
Freckled Fox Creations
In-Fix Connection
Jaide Fox Paintings
Jewelry by Amanda
Left Coast Wood Co
Let's Stay In
Little Miss Sew and Sew
Luxe and Love Creations
Nancy Dearborn
Natural Bloom Lifestyle
Okanagan Valley Vagabonds
Old School Petals
olive + bramble co
Pawfectly Tailored
Pink Raven Jewelry
Radiant Soul Wellness
Raven Paracord
Snow and Swirl Artistry
Splish Splash Bath Bombs
Stems & Stones
White Aura Candles
Yogapotion
**Please note that your RSVP is valid for the entire day** TICKET INFORMATION
---
---