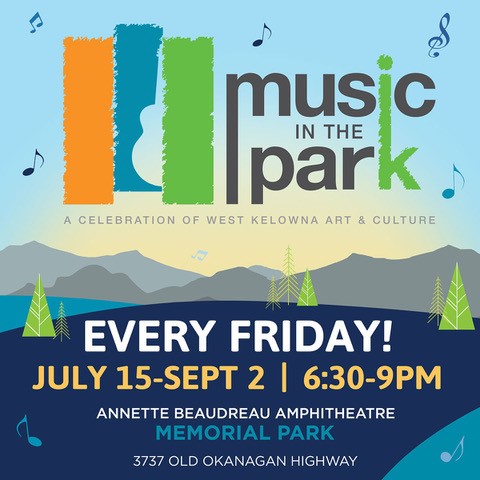 Music in the Park
THIS EVENT HAS PASSED
Memorial Park
3737 Old Okanagan Hwy
VIEW MAP
Music in the Park 2022
Music in the Park is a celebration of West Kelowna art & culture and it can be enjoyed at Memorial Park on Friday nights in July and August from 6:30 pm – 9:00 pm.
Bring your lawn chairs, come and enjoy some great Music in the Park! Food trucks are onsite each week. As well, the City of West Kelowna Parks and Recreation staff are at the park with outdoor play games for kids to enjoy.
The Annette Beaudreau Amphitheatre Memorial Park is located at 3737 Old Okanagan Hwy, next to Johnston-Bentley Pool.
** concert still is a go with light rain. If heavy rain, thunderstorms or forest fire burning, a decision will be made by 6pm if the concert will continue.
Evening Lineup for most nights
Emerging Artist at 6:40 pm
Opening act at 7 pm
Headline act at 8 pm
August 19 and 26 will see special extended shows with Music in the Park beginning at 6pm those nights
Here is the weekly schedule for 2022:
July 15
BEN KLICK | new country
JACKSON HOLLOW | traditional country/bluegrass
July 22
ISKWE¯ ᐃᐢᑫᐧᐤ | adult alternative
KANSAS LEE AND JOHNNY | folk/singer-songwriters
July 29
WESTBANK COUNTRY OPRY | traditional country
KARL AND GAIL HOURIGAN | Celtic/folk/pop/blues
August 5
MAJOR MAMBO | Latin dance/jazz
THE MELIPONAS | upbeat Latin, jazz, European
August 12
LEILA NEVERLAND | soul/new jazz/songwriter
GOLD SAUCE | funk
August 19 – special extended show, starts at 6 pm
WESTBANK COUNTRY OPRY| country
UNDER THE ROCKS | bluegrass
MICHAEL DANIELS | traditional & new country/songwriter
August 26 – special extended show, starts at 6pm
WESTBANK COUNTRY OPRY | country
ROCK STEADY |rock/big band
ROLLIN COAL TRIO |50's/60's rock/Latin/country
September 2
NEVILLE BOWMAN | high energy vocal & instrumental jazz
JS GARCIA BAND | pop/rock/country/folk
---
---
Other Events You Might Like
Live Jazz/Blues Wednesdays
Sep 27 @ 7:00 pm - 9:00 pm
Trivia Night @ Lakesider
Sep 27 @ 6:00 pm - 7:30 pm
Comedy - Herb Dixon
Sep 28 @ 7:00 pm - 10:00 pm