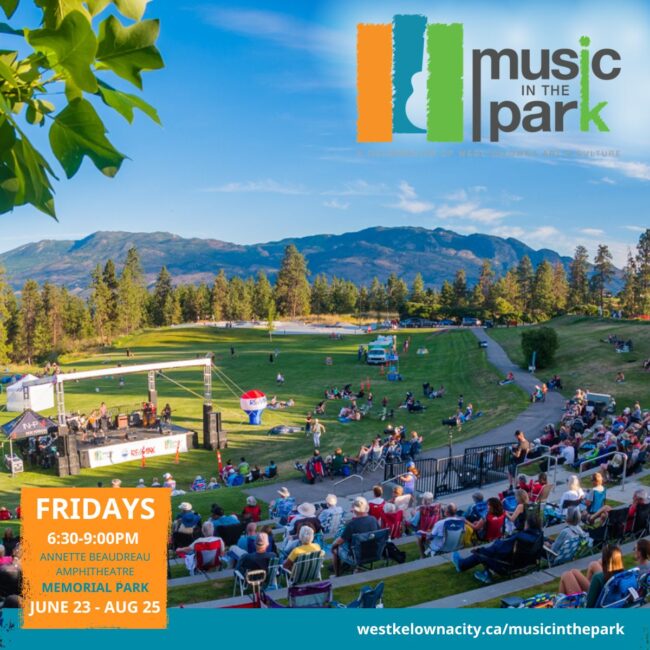 Music in the Park
THIS EVENT HAS PASSED
Memorial Park
3737 Old Okanagan Hwy,West Kelowna, BC, ,
VIEW MAP
Welcome to the 2023 Music in the Park season
Join us every Friday night, from 6:30 to 9 p.m., from June 23 to Aug. 25, at Annette Beaudreau Amphitheatre at Memorial Park, for free entertainment, that's great fun for the whole family.
Each night will see an emerging artist perform with the opening acting playing at 7:00 p.m. and the headliner at 8:00 p.m. Please note that start times are subject to change.
June 23
Opening: LUKE WALLACE | radically hopeful, catchy earth songs
Headlining: LOCARNO | Latin/Mexican, roots fusion
June 30
Opening: GARY SATURDAY | indie rock/americana
Headlining: LEILA NEVERLAND | soul, new jazz, songwriter
JULY 7
Enjoy live music during Westside Daze.
July 14
Opening: FRANCIS BAPTISE | Indigenous songwriter & storyteller
Headlining: CELEIGH CARDINAL | indie folk/pop storyteller
July 21
Opening: LAYER CAKE MOUNTAIN | indie-folk with a twist of blues
Headlining: DIGGING ROOTS | folk-rock, pop, blues and hip hop
July 28
Opening: GRAHAM ORD BLUES BAND | good time funky blues
Headlining: BROTHER DOWN with special guest PAYTON BISCHOFF | rock, funk and pop covers
August 4
Opening: NIGHTSHADES | dynamic psychedelic art rock
Headlining: DON ALDER | fusion folk/pop guitar wizard
August 11
Opening: THE BLUESHOUNDS | rocking boogie blues
Headlining: 538st | new wave of fun
August 18
Opening: KAILEE McGUIRE TRIO | soulful folk pop
Headlining: RHINDRESS | country rock & glues
Aug. 25
Opening: ANDREW SMITH TRIO | funky folk & jazz
Headlining: BADGENTINA | vibey folk-rock
---
---
Other Events You Might Like
Femme Fatale @ The Broken Hearts Club
Nov 30 @ 7:00 pm - 10:00 pm
Trivia Night @ Friends Pub
Dec 01 @ 7:30 pm - 9:00 pm
Sip & Dip @ Urban Distilleries & Winery
Dec 01 @ 6:00 pm - 10:30 pm