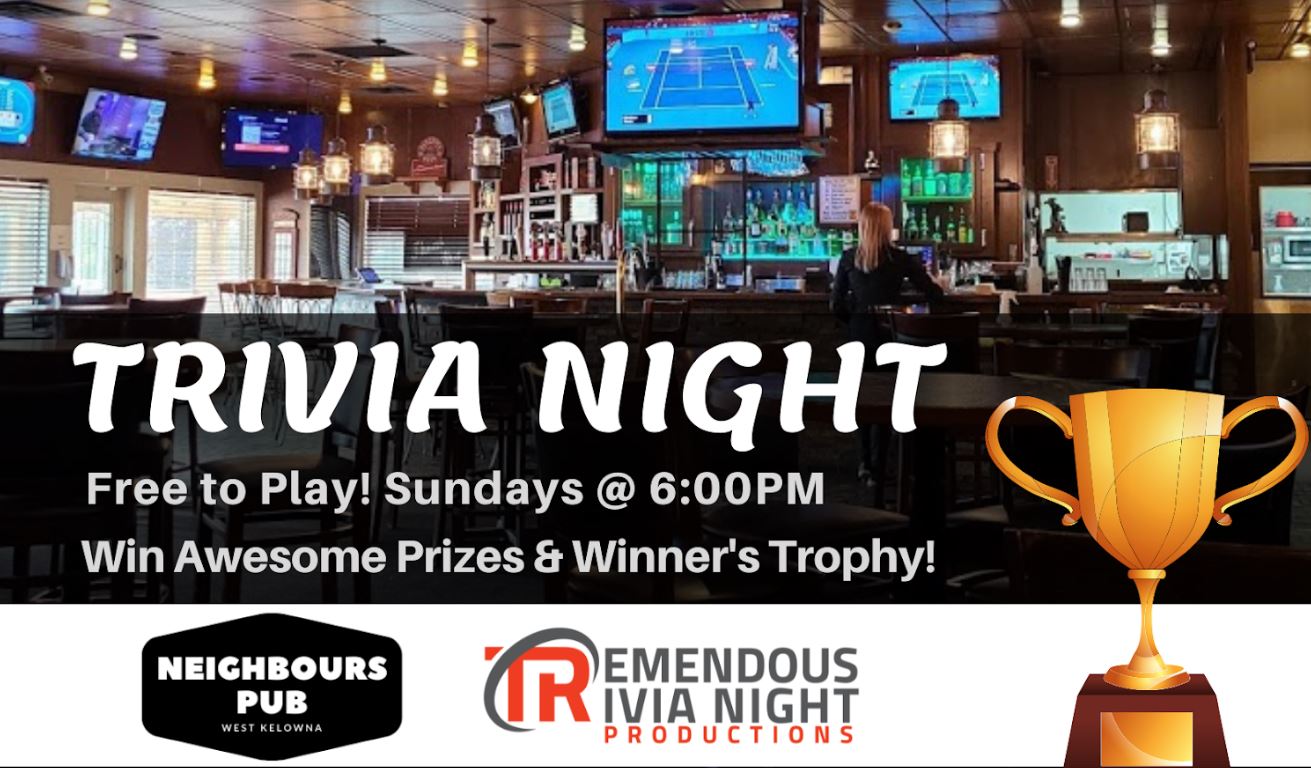 Sunday Night Trivia Night - Neighbours Pub
Date List
This event occurs Weekly
Sun March 12, 2023
Sun March 19, 2023
Sun March 26, 2023
Sun April 02, 2023
Sun April 09, 2023
Sun April 16, 2023
Sun April 23, 2023
Sun April 30, 2023
Neighbors Pub
3099 Shannon Lake Rd,West Kelowna, BC, ,
VIEW MAP
Neighbours Pub and Tremendous Trivia are pleased to announce the return of Sunday Night Trivia! Every Sunday at 6:00 pm. Free to play!
Tremendous Trivia and Neighbours Pub are pleased to collaborate on a night of great food, delicious beverages and an entertaining trivia show! Enjoy the fish and chips special and other great menu items at one of West Kelowna's finest and friendliest pubs.
Challenge yourself to identify what is on the screen in our Visual Round, or the songs played during our Name That Tune rounds, and put those tidbits of random knowledge to use in our question rounds! In addition to random draw prizes, there will be weekly winner gift certificates and a trophy for the winning team!
Make Sunday Night Trivia at Neighbours Pub a part of your social calendar in 2023.
---
---
Other Events You Might Like
Trivia Night @ Friends Pub
Dec 01 @ 7:30 pm - 9:00 pm
Sip & Dip @ Urban Distilleries & Winery
Dec 01 @ 6:00 pm - 10:30 pm
Light Up 2023
Dec 01 @ 5:00 pm - 8:00 pm