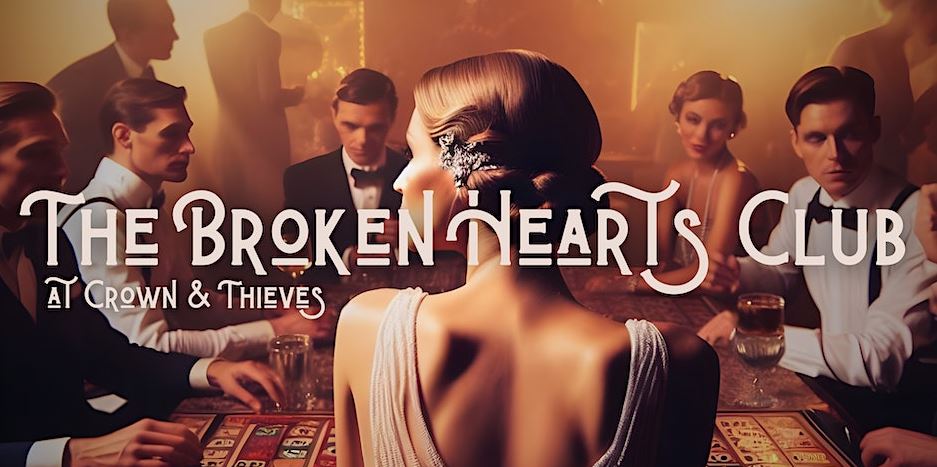 The Broken Hearts Club Weekly Events
Date List
This event occurs Weekly
Wed November 15, 2023
Wed November 22, 2023
Wed November 29, 2023
Crown & Thieves
3887C Brown Rd,West Kelowna, BC, ,
VIEW MAP
Upcoming events include Music Bingo & Trivia in the Broken Hearts Club Speakeasy.
Speakeasy Music Bingo & Trivia Nights
Experience the charm of a bygone era as we present our November lineup of weekly events, featuring two classic favorites: Trivia and Music Bingo! Step into the world of secret codes and hidden doors as we play games that harken back to the days of speakeasies and bootlegging.
Event Dates:
November 12th: Music Bingo Night
November 15th: Trivia Night
November 22nd: Trivia Night
November 29th: Trivia Night
Priority Seating for Neighbors
Indulge in a selection of specially crafted speakeasy libations available at a friendly discount. Our expert mixologists will take you on a journey through time with their unique creations, ensuring your glass is never empty.
Enhance your evening with our delectable fancy popcorn, the perfect accompaniment to your drinks. And that's not all! We have exciting prizes waiting for the winners of both Music Bingo and Trivia nights. Will you be the lucky one to take home the treasure?
Ticket Info: https://crownthieves.com/pages/events
---
---
Other Events You Might Like
Live Jazz/Blues Wednesdays
Nov 29 @ 7:00 pm - 9:00 pm
Femme Fatale @ The Broken Hearts Club
Nov 30 @ 7:00 pm - 10:00 pm
Trivia Night @ Friends Pub
Dec 01 @ 7:30 pm - 9:00 pm