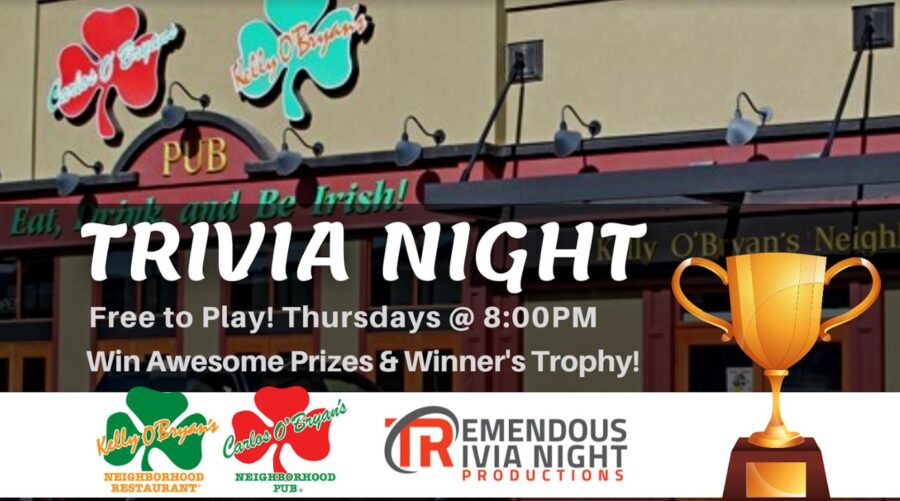 Tremendous Trivia Thursdays at Kelly O'Bryan's
Date List
This event occurs Weekly
Thu January 13, 2022
Thu January 20, 2022
Thu January 27, 2022
Thu February 03, 2022
Thu February 10, 2022
Thu February 17, 2022
Thu February 24, 2022
Thu March 03, 2022
Thu March 10, 2022
Thu March 17, 2022
Thu March 24, 2022
Thu March 31, 2022
Thu April 07, 2022
Thu April 14, 2022
Thu April 21, 2022
Thu April 28, 2022
Thu May 05, 2022
Thu May 12, 2022
Thu May 19, 2022
Thu May 26, 2022
Thu June 02, 2022
Thu June 09, 2022
Thu June 16, 2022
Thu June 23, 2022
Thu June 30, 2022
Thu July 07, 2022
Thu July 14, 2022
Thu July 21, 2022
Thu July 28, 2022
Thu August 04, 2022
Thu August 11, 2022
Thu August 18, 2022
Thu August 25, 2022
Thu September 01, 2022
Thu September 08, 2022
Thu September 15, 2022
Thu September 22, 2022
Thu September 29, 2022
Thu October 06, 2022
Thu October 13, 2022
Thu October 20, 2022
Thu October 27, 2022
Thu November 03, 2022
Thu November 10, 2022
Thu November 17, 2022
Thu November 24, 2022
Thu December 01, 2022
Thu December 08, 2022
Thu December 15, 2022
Thu December 22, 2022
Kelly O'Bryan's West Kelowna
3470 Carrington Rd, West Kelowna, BC
VIEW MAP
Join us at Kelly O'Bryan's every Thursday for West Kelowna's most popular and best weekly pub entertainment! Free to play, lots of prizes!
Tremendous Trivia is pleased to present an evening of fun, challenging, and always entertaining trivia games at Kelly O'Bryan's West Kelowna!
Included are general knowledge questions for all ages and abilities, a visual round, 2 Name That Tune rounds, and even a mini-game or two. Plenty of prizes for the winning teams and random draws throughout the night. Free to play!
Appy platters are 2 for 1 after 9:00, and rotating drink specials are on at this lively Irish pub. Bring friends and family to laugh, cheer, and compete every Thursday. Eat, Drink, and Be Irish!
Note that Tremendous Trivia events comply with all public health orders as part of our joint Covid plan with our venues, including vaccine mandates if required
---
---
Other Events You Might Like
Live Jazz/Blues Wednesdays
Sep 27 @ 7:00 pm - 9:00 pm
Trivia Night @ Lakesider
Sep 27 @ 6:00 pm - 7:30 pm
Comedy - Herb Dixon
Sep 28 @ 7:00 pm - 10:00 pm