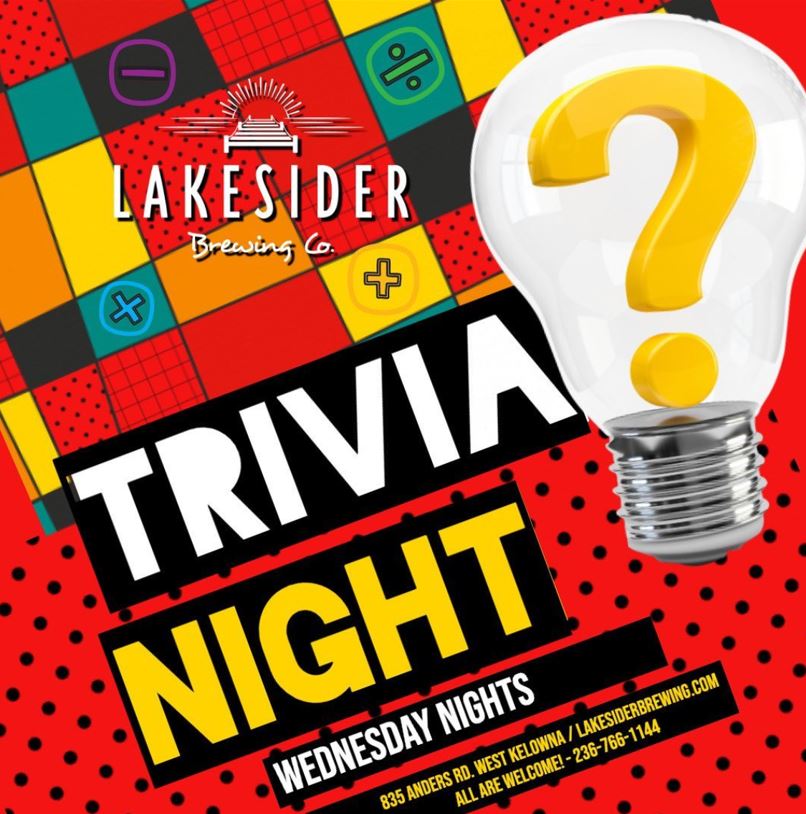 Trivia Night @ Lakesider
Date List
This event occurs Weekly
Wed May 04, 2022
Wed May 11, 2022
Wed May 18, 2022
Wed May 25, 2022
Wed June 01, 2022
Wed June 08, 2022
Wed June 15, 2022
Wed June 22, 2022
Wed June 29, 2022
Wed July 06, 2022
Wed July 13, 2022
Wed July 20, 2022
Wed July 27, 2022
Wed August 03, 2022
Wed August 10, 2022
Wed August 17, 2022
Wed August 24, 2022
Wed August 31, 2022
Wed September 07, 2022
Wed September 14, 2022
Wed September 21, 2022
Wed September 28, 2022
Wed October 05, 2022
Wed October 12, 2022
Wed October 19, 2022
Wed October 26, 2022
Wed November 02, 2022
Wed November 09, 2022
Wed November 16, 2022
Wed November 23, 2022
Wed November 30, 2022
Wed December 07, 2022
Wed December 14, 2022
Wed December 21, 2022
Lakesider Brewing Co
835 Anders Rd,West Kelowna, BC, ,
VIEW MAP
Join us for craft beer and fun-filled trivia every Wednesday at Lakesider Brewing from 6:00-7:30 pm. Rotating themes, weekly prizes. All ages. Reservations available.
Hosted by the one and only Jeff Marsden. Weekly themes and prizes. Free entry.
Max 4 per team please.
---
---
Other Events You Might Like
Trivia Night @ Friends Pub
Dec 01 @ 7:30 pm - 9:00 pm
Sip & Dip @ Urban Distilleries & Winery
Dec 01 @ 6:00 pm - 10:30 pm
Light Up 2023
Dec 01 @ 5:00 pm - 8:00 pm