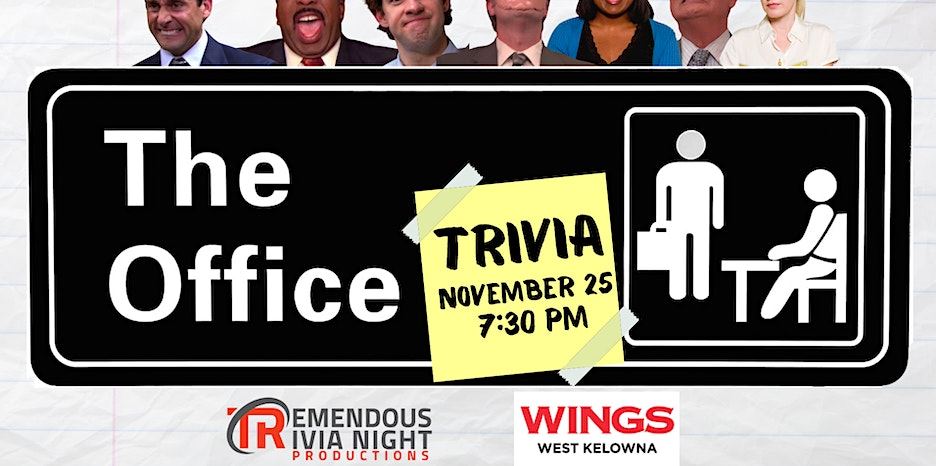 Trivia Night: The Office
THIS EVENT HAS PASSED
Wings West Kelowna
#1 - 2484 Main St,West Kelowna, BC, V4T 1P7,
VIEW MAP
Tremendous Trivia and Wings are proud to bring back themed trivia nights to West Kelowna, with our Office Trivia Night on Saturday Nov 25!
We're proud to bring the Office Trivia night to Wings Restaurant in West Kelowna. Bring your team to compete in 5 rounds of trivia about your favorite paper company crew. Trivia will consist of quotes, guest stars, pranks, and all the antics of the Dunder Mifflin Crew with everything from easy to expert level questions.
Show us you're the hottest in the office with our Costume Contest! We'll have great costume contest prizes, so get out the Recyclops costume that's hiding in the back of your closet (or just shine up your whitest sneakers!) and show us your love for the office!
Great food and drink specials for trivia players! Hundreds of dollars in prizes to be won, teams of up to 8 can compete to win!
Tremendous Trivia are nationally known for their competitive and entertaining themed trivia nights. We hope you look forward to our events like Stanley looks forward to Pretzel Day!
---
---
Other Events You Might Like
Live Jazz/Blues Wednesdays
Nov 29 @ 7:00 pm - 9:00 pm
Femme Fatale @ The Broken Hearts Club
Nov 30 @ 7:00 pm - 10:00 pm
Trivia Night @ Friends Pub
Dec 01 @ 7:30 pm - 9:00 pm