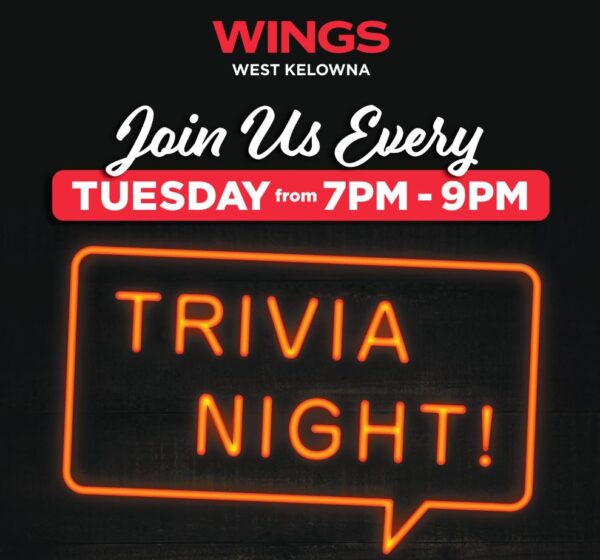 Trivia Tuesday @ Wings
Date List
This event occurs Weekly
Tue November 14, 2023
Tue November 21, 2023
Tue November 28, 2023
Tue December 05, 2023
Tue December 12, 2023
Tue December 19, 2023
Wings West Kelowna
#1 - 2484 Main St,West Kelowna, BC, V4T 1P7,
VIEW MAP
Tremendous Trivia and Wings Restaurant are pleased to team up for an amazing night of general knowledge & music trivia every Tuesday at 7:00.
Every Tuesday at Wings Restaurant in West Kelowna, Tremendous Trivia is pleased to bring you a challenging and very entertaining evening of general knowledge and pop culture trivia, Name That Tune, laughter, learning and PRIZES!
Who will win the coveted Tremendous Trivia trophy? Get a group of friends together to play, it may be you!
Registration and warm-up activity at 6:50 pm; the game starts at 7:00. It is always free to play with purchase.
Enjoy a delicious plate of the famous wings, and the rotating drink specials. There are gift certificates for the top 3 teams, and random draw prizes throughout the night. Get there early, as it fills up quickly. See you there!
---
---
Other Events You Might Like
Live Jazz/Blues Wednesdays
Nov 29 @ 7:00 pm - 9:00 pm
Femme Fatale @ The Broken Hearts Club
Nov 30 @ 7:00 pm - 10:00 pm
Trivia Night @ Friends Pub
Dec 01 @ 7:30 pm - 9:00 pm