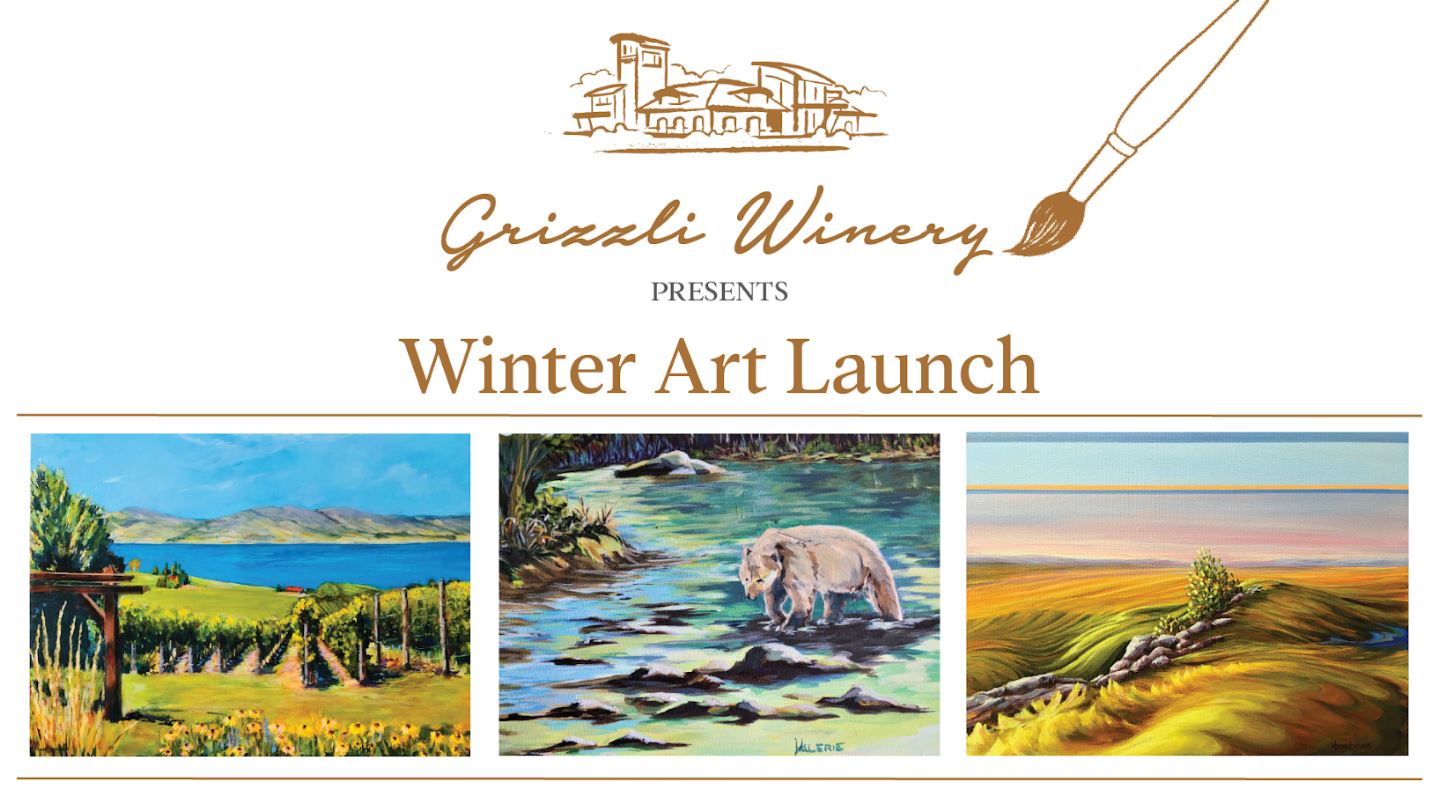 Art Gallery at Grizzli Winery
Address
2550 Boucherie Rd, West Kelowna
VIEW MAP
The art gallery at Grizzli Winery features the works of local artists and their exhibition rotates on a seasonal basis.
Grizzli Art Gallery – Winter Exhibition: 'The World Around Us' – October 2022 to February 2023
Changing seasons brings the rotation of Grizzli Art Gallery's newest exhibition: 'The World Around Us', featuring the work of three Okanagan-based artists: Anne Gidluck, Valerie Thompson and Diane Postman. 'The World Around Us' comes out of the artists' shared experience living through a pandemic that encouraged us all to look more closely at our surroundings. Reflecting upon scenes that typically don't catch a second glimpse – a derelict barn or lone flower amongst a field of weeds – this exhibition hopes to evoke joyous memories, gratitude for our Okanagan home, awareness of our surroundings, and compassion for those less fortunate than ourselves.
The World Around Us will be open to the public from Oct. 1 to Feb 26. Daily.
The OSO and Grizzli Winery – The Perfect Pairing
We believe music and wine go together like wine and cheese. We're better together.
The Okanagan Symphony Orchestra (OSO) is delighted to partner with Grizzli Winery as its Art Gallery Charity Partner for the 2022-23 season.
The OSO is the third largest professional orchestra in BC. This professional ensemble has shared music experiences with Okanagan residents and visitors for more than 60 years, with Music Director Rosemary Thomson at the helm for more than 15 years.
In addition to the OSO's many live public concerts, its community engagement programs bring unique music and learning experiences to preschoolers and their families through Symphony Storytime as well as to students and schools through its flagship Okanagan Symphony Youth Orchestra (OSYO), as well as other education programs.
A trio of musicians from the OSO will perform at this season's Winter Art Launch, the first of a three-part Art Launch series, on Oct. 16 at the Grizzli Winery from 4:00 to 6:00 pm.
All proceeds from the Grizzli Winery's Art Gallery events, including donations, raffles, and a percentage of art sales, will be donated to the OSO. Future events will include performances by both OSO and OSYO musicians.
---
Other Listings You Might Like