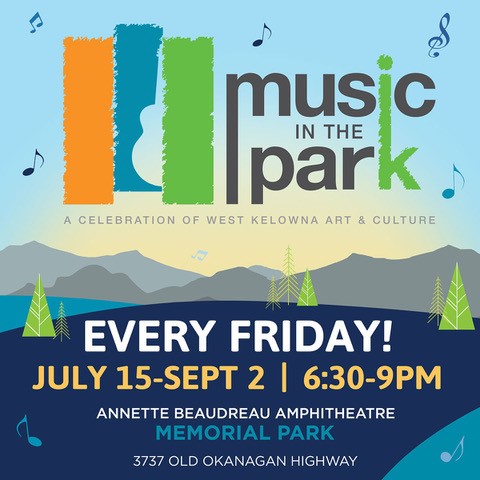 Music in the Park
Address
3737 Old Okanagan Hwy, West Kelowna
VIEW MAP
Music in the Park 2022 Schedule
Looking for a way to wind down the week or kick off the weekend? How about spending the evening outside, in an amphitheater park setting, listening to music while taking in the captivating views of Lake Okanagan and the surrounding mountains.
This is possible each Friday night during July and August in West Kelowna's Memorial Park when the weekly free community concert series, Music in the Park takes place. Bring your family and friends, a blanket or a lawn chair and listen to the sounds of local artists while watching the sun cast its final rays of sun on the mountains across the lake.
Feel free to bring a picnic supper along or enjoy the cuisine from the food trucks on-site. If you have young children with you, the Parks & Recreation staff from the City of West Kelowna are set up with fun recreational activities that the kids can enjoy.
Here is the weekly schedule for 2022:
July 15
BEN KLICK | new country
JACKSON HOLLOW | traditional country/bluegrass
July 22
ISKWE¯ ᐃᐢᑫᐧᐤ | adult alternative
KANSAS LEE AND JOHNNY | folk/singer-songwriters
July 29
WESTBANK COUNTRY OPRY | traditional country
KARL AND GAIL HOURIGAN | Celtic/folk/pop/blues
August 5
MAJOR MAMBO | Latin dance/jazz
THE MELIPONAS | upbeat Latin, jazz, European
August 12
LEILA NEVERLAND | soul/new jazz/songwriter
GOLD SAUCE | funk
August 19
UNDER THE ROCKS |bluegrass
MICHAEL DANIELS |traditional & new country/songwriter
August 26
ROCK STEADY |rock/big band
ROLLIN COAL TRIO |50's/60's rock/Latin/country
September 2
NEVILLE BOWMAN | high energy vocal & instrumental jazz
JS GARCIA BAND | pop/rock/country/folk
Parking can be found off of Carrington Court near the A&W. Accessible parking and drop-off can be found at the bottom parking lot of Johnson Bentley Memorial Aquatic Centre.
---
Other Listings You Might Like