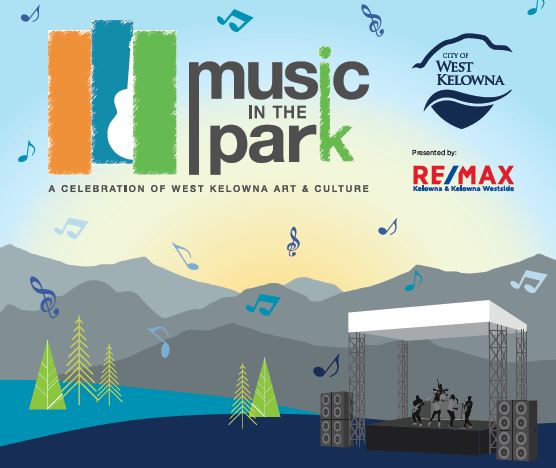 Music in the Park
Address
3737 Old Okanagan Hwy, West Kelowna
VIEW MAP
Music in the Park 2019
Enjoy free concerts on most Friday nights in July and August at the Annette Beaudreau Amphitheatre in Memorial Park located at 3737 Old Okanagan Hwy. Enjoy the exceptional talent of Okanagan artists as they perform on stage before a spectacular backdrop of Okanagan Lake and the Monashee Mountains.
Bring your own blanket and maybe an umbrella in the event of light rain, and leave a bit of extra time to find parking. Vendors are located on site for those looking to buy a snack or refreshments at the show.
City of West Kelowna Parks & Rec staff are onsite each week with games for the kids!
Food Truck Line-up: 
Peter Ze German – Bratwurst, Grilled Cheese, Schnitzel, Salad
Kona Ice of Central Okanagan – Shaved Ice
Dosa Crepes – Savory and Sweet Crepes
What If It's Raining? 
The concert will still proceed in the event of light rain. In the case of heavy rain, thunderstorm activity or a forest fire burning in the community, the event may be canceled and a decision will then be made at 6 p.m. on concert day. In the event of cancellation, a notice will be posted on the City of West Kelowna's homepage and its Facebook and Twitter pages.
2019 LINEUP
Each night 6:45pm Emerging Artist | 7:00pm Opening Act | 8:00pm Headliner
June 28: JS Garcia Bank (pop/rock covers) | The Insiders (pop)
July 5: Mason Burns Band (retro rock and roll) | Nuela Charles (alternative soul)
July 12: Enjoy the Music of Westside Daze!
July 19: Andrew Judah (art rock) | Daysormy (alternative)
July 26: Michael Daniels (new country) | Crystal Shawanda (blues/roots/country)
July 27: Keala Morazain (pop/jazz/covers) | Shawn Lightfoot Band (rock/country/pop covers)
August 2: Westbank Country Opry
August 9: Post Modern Connection (indie soul) | Apollo Suns (instrumental rock/jazz)
August 16: The Heels (country) | Kentucky Eileen (fold/bluegrass)
August 23: Becca Mabbett (singer/songwriter) | Under the Rocks (bluegrass)
August 30: Black Cat Soul (blues/roots/soul) | Kenny 'Blues Boss' Wayne (boogie woogie/blues)
---
Other Listings You Might Like