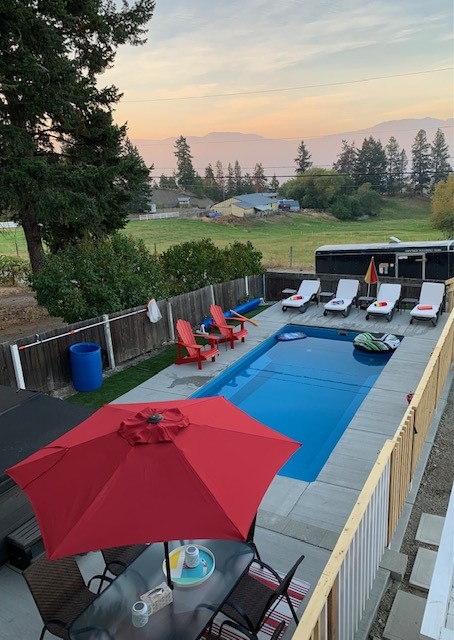 Salish Bed & Breakfast and SPA
Address
2707 Salish Rd, West Kelowna
VIEW MAP
Salish BnB and Spa
Meaning of Salish
Giver of the Water
Interpretation
A member of group of North American peoples inhabiting areas of the northwestern US and British Columbia
The group of related languages spoken by the Salish.
Relating to the Salish of their language
Location
The B&B is located in West Kelowna in Smith Creek area with an ever-expanding network of all mountain trails your place for mountain biking and hikes.
It's an escape from city life to a simple, rural, outdoors lifestyle that appeals to those who enjoy outdoor sports, nature and tranquility. Surrounded by wineries, vineyards, cherry, apple, peach and berry farm's.
Hosts
Michelle and Alfonso Machleidt truly love their way of delivering hospitality service. They are passionate hosts with a bunch of international experience of working in hotels and resorts.
Salt Water Swimming Pool (Sorry, Closed for Winter)
Located at ground floor next to the driveway. Pool is heated and has great views overlooking the horse fields and mountains. Sun loungers, floaties and some toys for our little guests
Hot Tub
Located at the ground floor next to the swimming pool. 7 seater all-year-round hot tub.
Dining
Sit down tables and lounges located at first floor. Main patio with large dining table, BBQ and fantastic view to pool, horse fields, lake and mountains. Stove Lounge with comfortable relaxing sitting arrangements, reading, socializing, fire place and sit-down table for dining at the window overlooking pool, horse fields and mountains.
Miscellaneous (Extra Charge)
Kayaks
E-Bikes
Bicycles
Outdoor
Trampoline
Herb, vegetable and fruit garden
---
Other Listings You Might Like