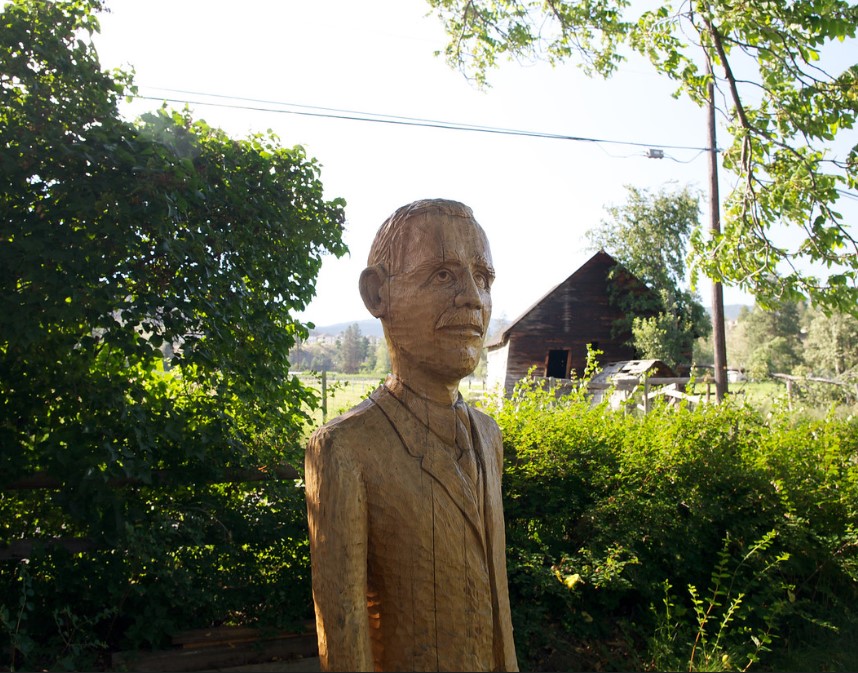 West Kelowna Public Art Tour
Address
2375 Whitworth Rd, West Kelowna
VIEW MAP
Learn about West Kelowna's history through a public art tour of murals and sculptures
Statue of Jack Gellatly
artist Frances Bezeau – Gellatly Nut Farm – 2375 Whitworth Rd
The Gellatlys are a pioneer family that played a crucial role in the development and success of agriculture and shipping produce in the Okanagan with Jack Gellatly experimenting with growing nuts in the early 1900's
Children of Peace (2002)
artist Jock Hildebrand | Dobbin Rd (Hwy 97)
This sculpture those who were killed or maimed due to man's inhumanity to man. The marble, stainless steel and concrete piece is a call for peace from the sculptor.
Our Westside History mural (2009)
artist Gerry Houghton | 2372 Dobbin Rd (Hwy 97)
The 763 square foot mural portrays the history of the area, the culture of the Westbank First Nation Okanagan/syilx peoples and the current wine industry.
CNB School Mountie mural
artist Dean Lauze | 2010 Daimler Rd
This mural portrays both the school's namesake: Constable Neil Bruce; and their mascot: "the cubs". They are both shown in a natural setting together without either one appearing threatened by the other. Constable Neil Bruce was fatally wounded in 1965 while trying to rescue a woman who was being unlawfully confined.
Hudson's Bay Co Fur Brigade Cairn (1943)
Hwy 97 & Old Okanagan Hwy
This Cairn, placed by the Historic Sites and Monuments Board of Canada, marks the historic "Brigade Trail" as it passed through the Okanagan Valley. This site is also the location of one of the original trading camps along the Okanagan Brigade Trail.
Sculpture on Main
artist Ken Blackburn | Main Street (Hwy 97)
---
Other Listings You Might Like