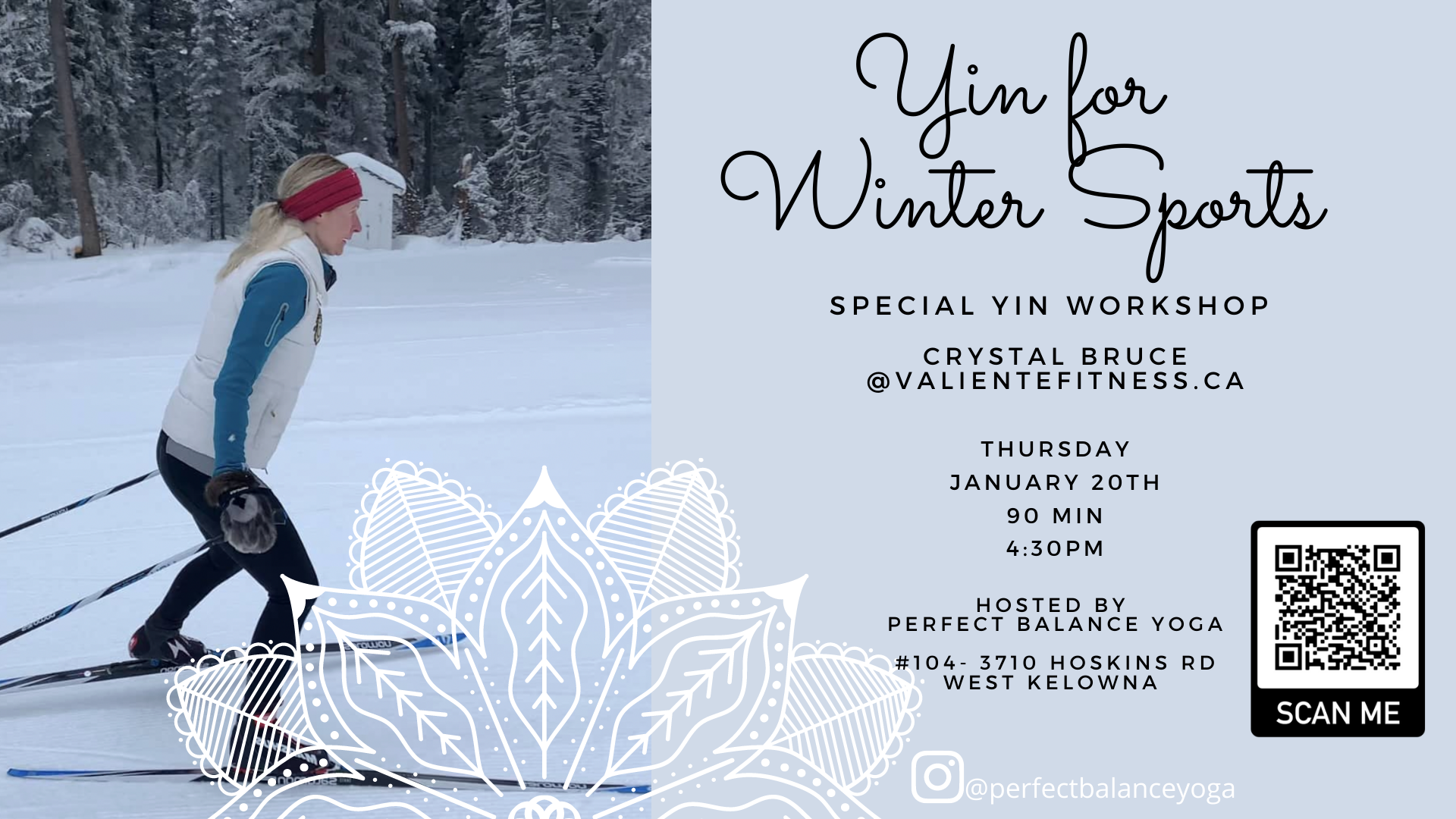 Yin for Winter Sports
Jan 20 @ 4:30 pm - 6:00 pm
Perfect Balance Yoga
#104 3710 Hoskins Rd, West Kelowna, BC
VIEW MAP
In this special (virtual & in studio) workshop Crystal will guide you into a deeper understanding of muscular and skeletal tension and restrictions that are common in Winter Sports enthusiasts bodies!
Yin Yoga postures target the fascia, the deep connective tissues, in the body to help regulate the flow of energy in the body. Yin Yoga is also known as yoga for bone health as it allows for healthy compression in the joints leading to a reduction in inflammation and tension.
Yin Yoga postures are passive postures, mainly on the floor, and are held anywhere from1-4minutes.
About the Teacher:
Yoga has been a part of Crystal's life since 2010 when I found Yin. It was a lifesaver for her. She really enjoys getting down to what's going on at a physiological level as you will find out. She has been in to fitness and weight training since she was 18. She has competed and placed top 3 in multiple bodybuilding shows.
Crystal's background in fitness as a PT is with the National Academy of Sports Medicine, and she uses the Integrated training Model in workout design. This is a concept that combines all forms of exercise in to one system, inclusive of Flexibility, cardiorespiratory, core, balance, Plyometric, speed agility and quickness and resistance training and the clients choice. This all-inclusive approach to exercise leads to improvements in overall health and wellness as well as athletic performance.
Workshops are on a. sliding scale please pay from the three options what works best for you.
Event Cost:
Sliding Scale: 30, 25, 20
---
---