It is the Family Day long weekend and we have some ideas to keep you busy all weekend long!
Trail Photo by Darren Hull
Hit the Trails
Discover the magical winter wonderland of our forests by trail. Ski, snowshow, ride or walk these trails and don't forget to capture great photos of snow laden trees, glistening snow drifts and rosy cheeks!
Trail Rides: Broken Rail Trails | 674 Petterson Rd, West Kelowna
Cross Country Ski & Snowshoe Trails | Telemark Nordic Centre | Glenrosa Rd
Swim, Skate or Dance with the Family
Swim
Johnson Bentley Memorial Aquatic Centre | open noon – 4pm on Sat, Sun & Monday
Monday is the Family Day Swim | noon – 4pm | $5/family | 3737 Old Okanagan Hwy
Skate
Jim Lind Arena | Sat, Feb 10 | Public & Family Skate 11:15-12:30pm | $4/pp or $12/family (max 2 adults)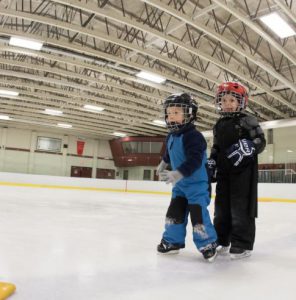 | Sun, Feb 11 | Parent & Tot Skate 1:30-2:30 | Free, courtesy of the BCGEU
| Sun, Feb 11 | Public Skate 2:45-4pm | Free, courtesy of the BCGEU
2760 Cameron Rd, West Kelowna
Royal LePage Place | Mon, Feb 12| Super Hero and Princess Skate to Fight Cancer 10am-12pm | by donation; bring your family out to a magical skate in support of Pediatric Cancer Research, enjoy music and fabulous door prizes, and dress up as your favourite princess or super hero! | 2760 Cameron Rd
Dance
Mar Jok Elementary School | Mon, Feb 12 5:30-7:30 | Free, family dance party that's fun for all ages. Enjoy the music of DJ Krucial K, fun party games and free refreshments. 2101 McDougall Rd
Sips & Bites
Sip with Your Sweetheart | Feb 10 & 11, noon -4pm each day | complimentary wine & chocolate pairings | Wineries of the Westside Wine Trail. 
Craft Beer | Feb 10 & 11, noon – 4pm | the craft beer scene has arrived in West Kelowna at Kind Brewing and they will be have some valentine's treats too.
Movie Night
Do a movie night with your family at either the Landmark Xtreme (525 Hwy 97 South Sneena Rd) which shows new releases or the Landmark Encore (200-3645 Gosset Rd) where the show prices are at a reduced prices and the shows are still current (just not new releases).
 Looking for accommodation or touring information? Be sure to visit our directory for listings!