Food Trucks
What do you get when you put 9 food trucks, a boutique clothing retail bus (yes, it was literally a store in an old school bus), a booth about a hotel that "rebels against the ordinary",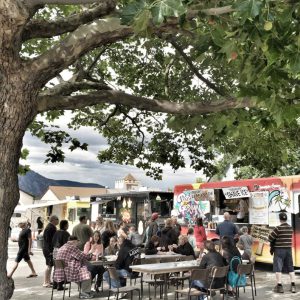 a stand littered with chalk and bubbles, and to top it all off a DJ "spinning those tracks", in a parking lot in downtown West Kelowna? You get 2000 plus residents converging into one location, all indulging in an array of cuisines all cooked and served out of a truck. To some, this sounds like insanity, but to those people who went, it was bliss.
The Okanagan Food Truck Fest made its stop in West Kelowna in June in the parking lot of The Lion's Club Community Hall and will be back again on September 29th! Organized by Ian and Heidi of Surf Side California, the event featured 9 different food trucks with different types of foods ranging from fish tacos to crazy Asian style burgers to rotisserie chicken infused with a poutine. 
The event drew in big crowds that just refused to die down at any point during the event that ran from 4pm till 8pm which even featured an impromptu flash mod style dance party.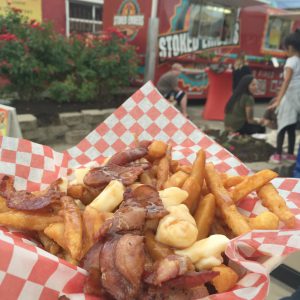 As much as I tried to get around to all the different vendors to try small portions of each one, the task at hand just ended up being too monumental to conquer (although I did manage to taste 5 of the 9 which I deem to be impressive). From the bites I did experience, all I can say is each one brought their own unique "wow factor".
The concept of a food truck rally does not revolve around refined dining occasion and the perfectly executed dishes.  It is about the abundance of flavours that you experience with every bite and the atmosphere that coincides with an event of this nature.
What really inspired me about this event was how the community as a whole came together,  how it brought life to the downtown core and it supported these hard working people and their businesses. And really, all in all  how everyone just had a great time together.
Ian and Heidi, I commend you for all the hard work you put into this event. I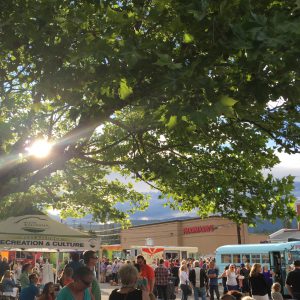 know you will be back and all I can say to all you people reading this is that this is an event that you will not want to miss.
Next Food Truck Fest Rally
September 29th | 4 pm – 8 pm
in front of the Lions Hall on Main Street
West Kelowna, BC

Contributor:
Cameron Weir is at student at TRU and spent this past summer working as a summer student with the City of West Kelowna in the Economic Development Office.