It's Tuesday and we have a craving. A craving for some donuts. It is also a great excuse to stretch the legs, go for a walk up Main Street and check out some of our shops.
We decided to stop at Mad Hatter Used Bookstore to find a good read to go with that tasty donut that we have been craving. We were greeted warmly by Paulette who showed us around and helped me discover some French novels (I picked up three!).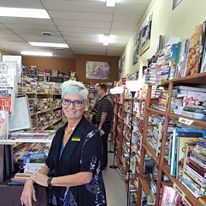 When purchasing my 'new' book, I was informed that the store will buy back the books at half price for store credit and you can even trade in books from your home for credit. (Love this place!)
We got to talking and found out that also collect books for underprivileged societies in Africa. Right now, they are collecting children's books with lots of pictures, so if you have any books laying around and collecting dust, drop by Mad Hatter and see what they can do for you!
Once we were freshly booked up, we continued up Main Street to Dolicious for that sugary treat that we had been looking forward to.
We asked the staff working at the counters if they would be interested in letting us take a picture, and they brought out Chris Cruz to help us. We had previously been on a tour with Chris last summer, as he is one of the owners of AMC tours, and he is a blast. Dolicious has expanded their menu to include custom ice cream, chicken, and other delicious treats, as well as donuts. We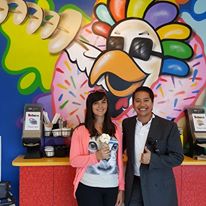 enjoyed some delicious donuts and ice cream while catching up with Chris and the company.  If you're looking for a friendly, welcoming place to fill that sweet (or savoury) tooth, look no further than Dolicious. And if you haven't already been, well that just donut seem right.
 –          Written by the West Kelowna Visitor Centre Staff
More Information:
Dolicious Donuts | 3711 Elliott Rd | West Kelowna, BC | closed Sundays & Mondays
Mad Hatter Used Bookstore | 2483 Main St | West Kelowna, BC | closed Sundays & Mondays