Sip and Paint parties seem to be pretty popular right now. For those who have not heard of them, the idea is that local restaurants usually provide a venue space, and people to all paint the same photo while enjoying some sips. We have seen these take place in our local breweries, restaurants and pubs.
Earlier this year a group of us decided to organize our own paint party at one of our houses and it was a whole lot of fun! It got me thinking that during this time of social distancing and self-isolation, it could be a great activity to pass some time. We decided what to paint by turning to Youtube where we found several artists who did step by step online painting tutorials.
If you are ready to unleash some creativity, below are some ideas on how to host your own paint party with your family, or remotely with friends. And yes, you can do this with friends too by Facetime or Skype!
Below are some steps  for our Idea #2 for a #SocialDistancingStaycation – your own Sip and Paint Party.
Steps & Tips
Find a paint tutorial on Youtube
If you want to turn it into a Sip and Paint Party we have some suggestions below for wine and paint pairings.
Gather up your supplies (see our list below and substitutions if you don't have them all on hand)
Pick a time to do it and coordinate with a friend on Facetime or Skype.
Cover your table with a large sheet or table cloth
Stream the Youtube tutorial on your laptop for all to see, or if you have a TV near by, stream it on that.
Unleash your creativity.
Show us what you painted! By tagging us @visitwestside or use #visitwestside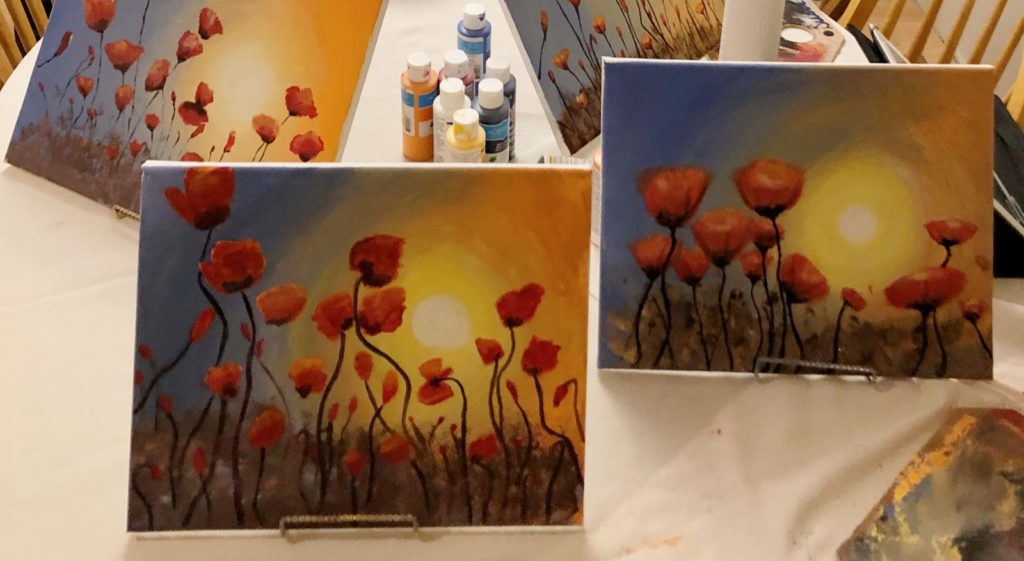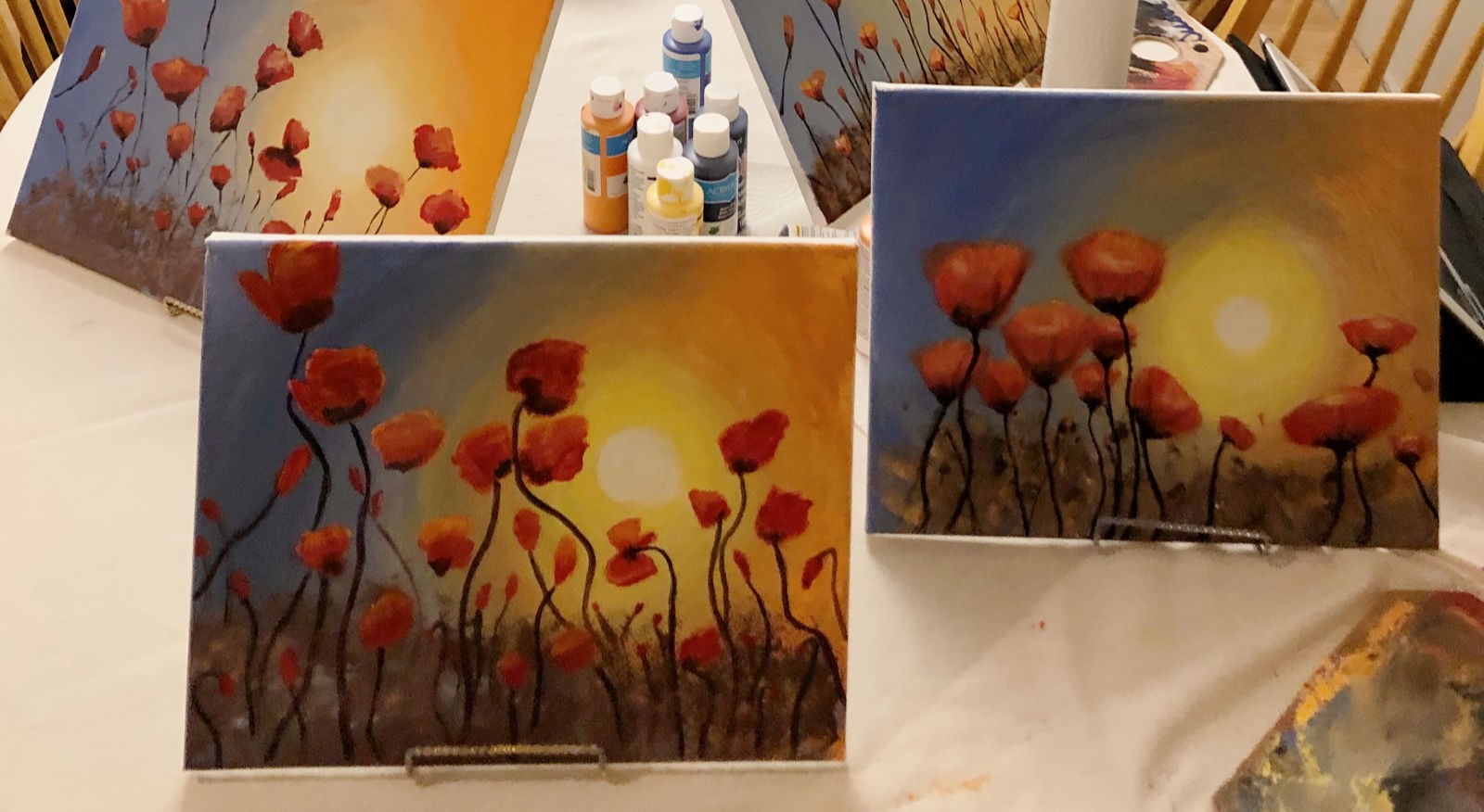 Supplies and substitution suggestions so you do not have to leave the house 🙂
| | |
| --- | --- |
| Items | Substitutions |
| Canvas | Back of a cardboard box, construction paper, printing paper |
| Paint Palette | Lid from a margarine container, a piece of wood |
| Acrylic Paint | Old watercolour paints from your kids, paint from home improvement projects |
| Brushes of different sizes | Old makeup brushes, home improvement painting brushes, qtips, toothpicks |
| Disposable Cup | Washed out yoghurt containers |
| Paper Towel | Old rags |
| Tablecloth or sheet | Plastic garbage bags |
If you want to add a sip to your paint party experiences, we have the following suggested pairings. Our Westside Wine Trail wineries offer online sales and you can have your sips delivered right to your doorstep!
Wine & Painting Pairing Suggestions
Wine Suggestion
Paired Painting Idea
Rosé
Cherry blossoms painting.

Because pink and pink go so well together

Merlot
Forest Painting.

Forest make us think of cool outdoors and there is nothing like a glass of Merlot to warm you up. Bonus if it is painting of Ponderosa Pines as the bark of a Ponderosa Pine smells like vanilla and Merlot can have notes of vanilla.

Riesling
Orchard or Apples.

Riesling can have notes of apple and beeswax. An apple orchard painting could be the perfect pairing.

Pinot Noir
Wine Glass

Our vineyards are known for growing great pinot noir – create a lasting memory with a painting of a glass of pinot noir.

Gewürztraminer
Spring Flowers

Gewürztraminer has a very floral bouquet, so why not paint a bouquet of flowers.
Some ideas for online painting tutorials for your wine pairings! (We have not tried any of these out, so have no idea how hard they are, but they do look interesting :))
CHERRY BLOSSOMS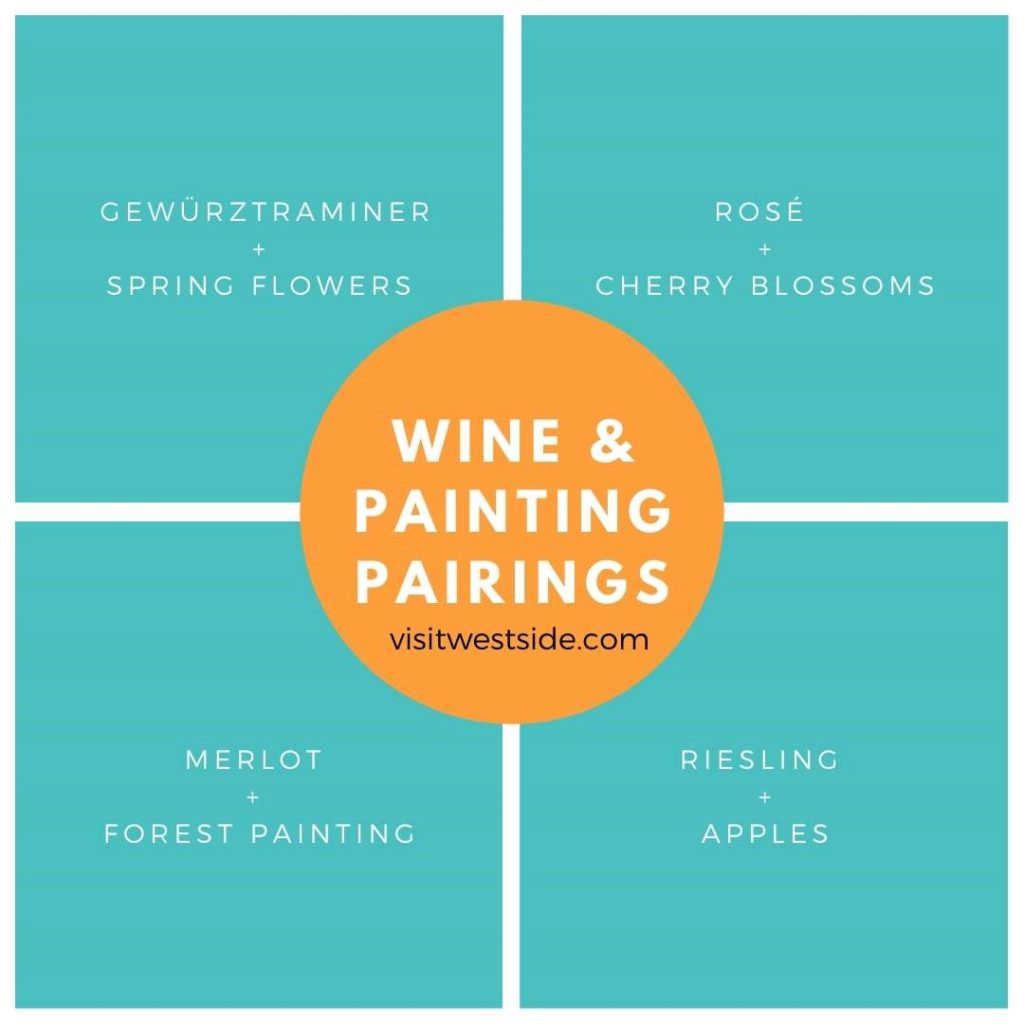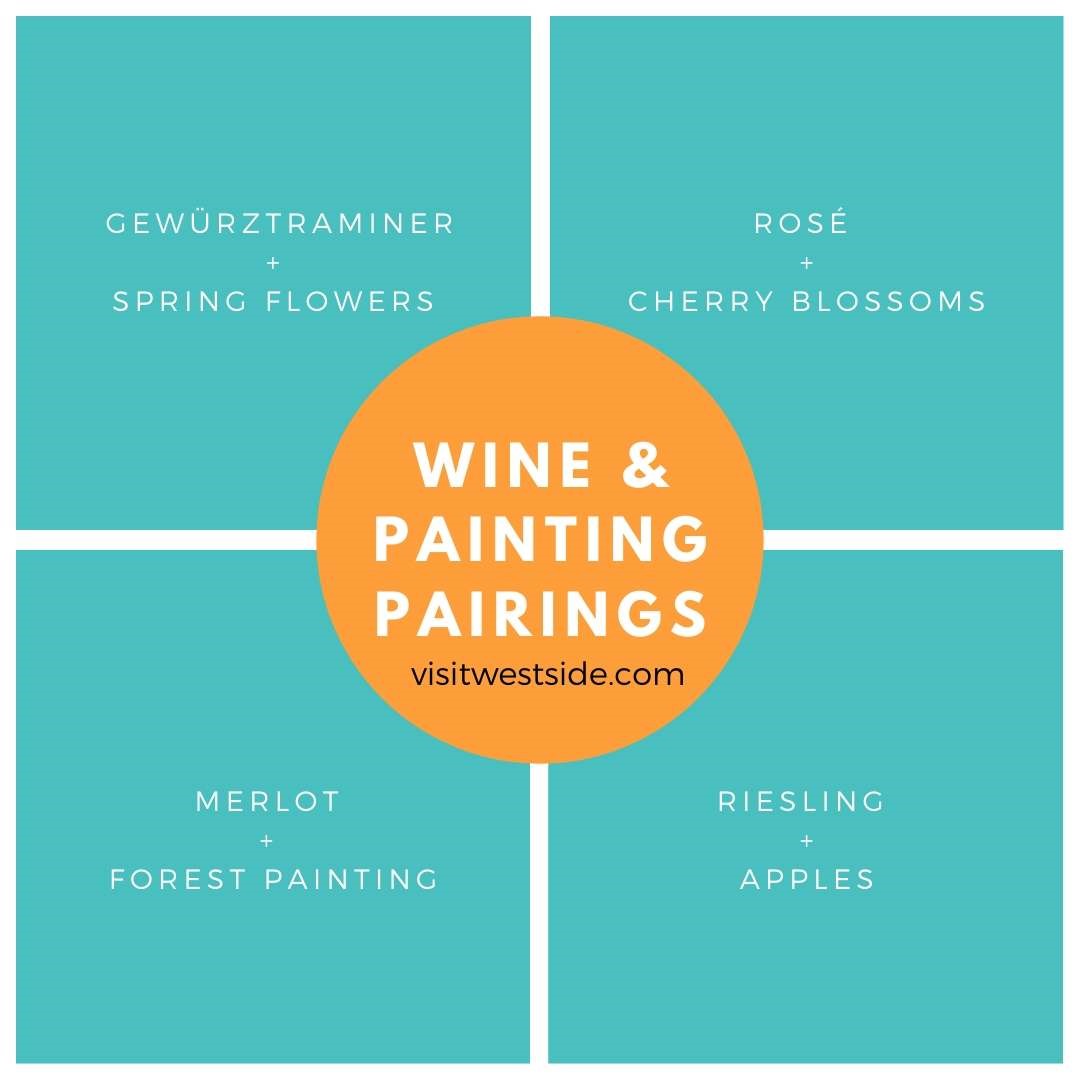 https://www.youtube.com/watch?v=1C6MGhtMceU
https://www.youtube.com/watch?v=j-kc-b7aj6k
FOREST PAINTING
https://www.youtube.com/watch?v=CSn5cDMI4qM
https://www.youtube.com/watch?v=yfPwlM8wCm8
APPLES
https://www.youtube.com/watch?v=GZPnYjRHKfs
WINE GLASS
https://www.youtube.com/watch?v=ey2PXLQn8zA
SPRING FLOWERS
https://www.youtube.com/watch?v=fftxKnsBvO4