Things to do in West Kelowna with Kids
Do you have a toddler in your life and are looking for places to go and things to do? Look no further as we have some great ideas for you and your toddler!
Let us introduce you to Carmen, a local mom who likes to get out and explore the town with her toddler. Take a read to see what her picks are for must-visit spots and things to do with toddlers (and kids) in West Kelowna!
I have lived in the Okanagan for more than 9 years now and long lake floats, wineries, tastings and tapas were my go-to summer activities – until I became a mom. Do not get me wrong, all these activities are all still possible but once our baby girl became a chatty, moving, walking, cheeky toddler we had to adjust the way we enjoy our favourite things to do on the Westside! Sleep in and spend the afternoon at the beach during the hottest part of the day? – nope! Sit down for a slow winery lunch of tapas and tastings? – nope! Do anything around nap time? – nope! Haha! But – you know what – there is so much to do and enjoy on the Westside with your kiddos and here are some of my favs!
Places to Eat and Drink
Truck 59 | 3887 Brown Rd
This spot has an excellent flat outdoor area with lots of shady spots, picnic tables, tiny picnic tables for kiddos and even toys and games for them to grab and enjoy! They can play on the grass while you enjoy a flight of their delicious cider. They also often have a food truck on site serving up a bite to eat.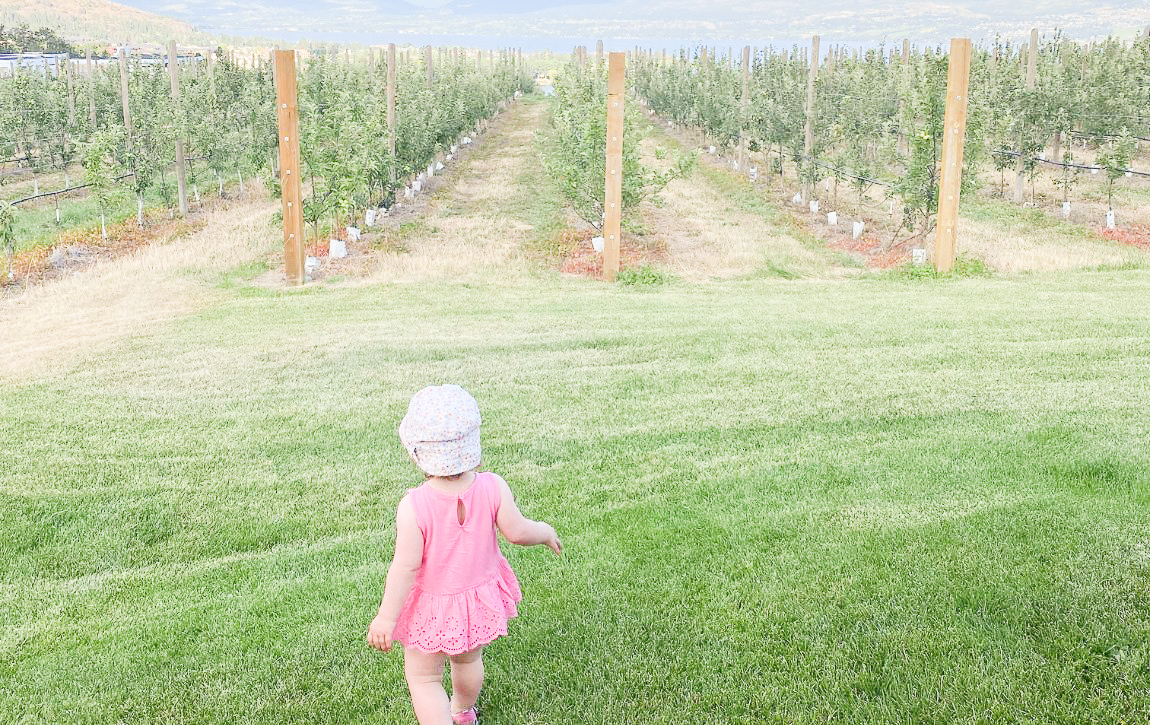 Frind Winery | 3725 Boucherie Rd
Such a great place to stop with the kiddos any time of day. This is lakeside with so many options for those young and old to enjoy. Starting first thing in the day, Annie's Cafe has a variety of snacks, treats, coffees and pastries for everyone to munch on at one of many picnic tables on the beach or in the grass. Put your toes in the lake or lounge in one of their new cabanas while snacking away. The winery restaurant has a varied menu, and the tasting room is also great if an adult or two can sneak off for a tasting while someone watches the kids at the beach.

Stop for a Sweet Treat
Paynter's Fruit Market | 3687 Paynter Rd
What can you find here? Tons of delicious local fruits and veggies to buy but around the back is the best part – ice cream! Grab one of more than a dozen flavours on any given day and head into the shaded orchard to enjoy your treat. Again, it is flat, shaded and with seating for you while your kids run and play between the peach trees running off the sugar high from the ice cream. There is often a food truck on site as well for additional snacks! Enjoy this special spot, but don't touch the fruit on the trees without permission!

Places to Play
Kids Care Spray Park | 2569 May St
Looking for a place to cool off on a hot day? For kids, big and little the spray park is always a go-to activity. The park is surrounded by grass and has some shady spots to set up a blanket and picnic and enjoy the day. There are bathrooms on site and there is also a fenced off-leash dog park next door if your furry family member needs somewhere to go too.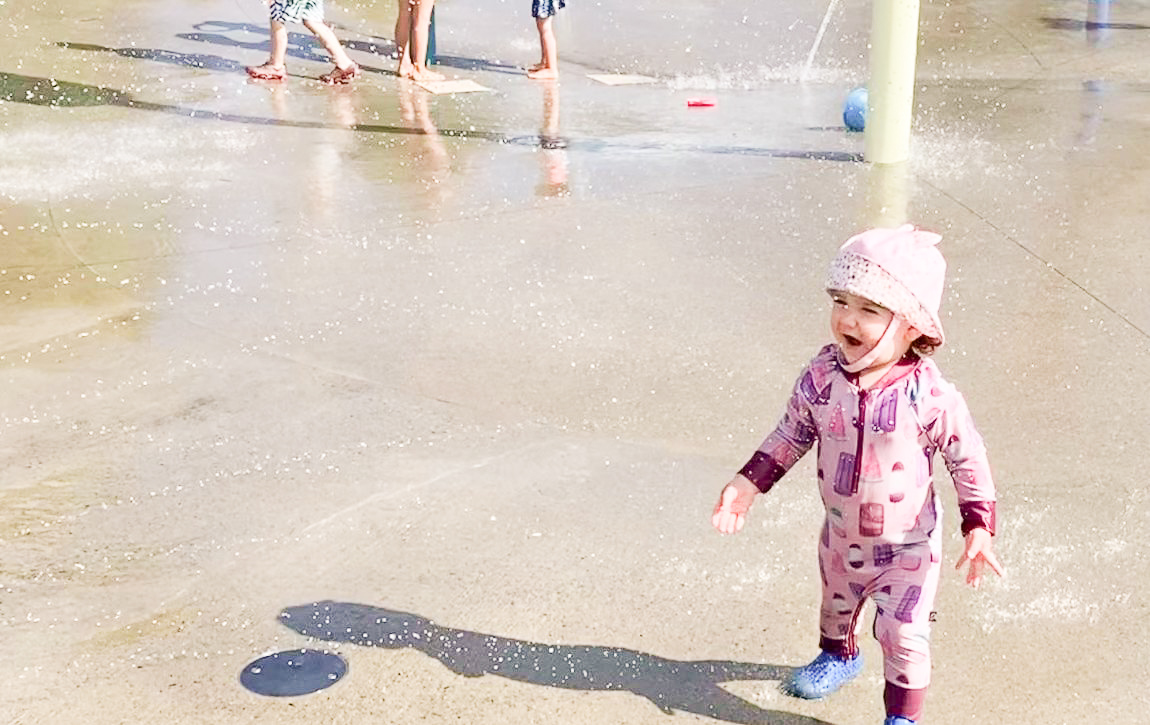 Marina Park | 4123 Gellatly Rd
This spot is great for littles and family members of all ages and abilities. The park is fully fenced on one side to protect littles from the road, and has a big playground, shade, a gazebo, picnic tables, benches, a grassy area and a beach. This is a one-stop shop for an entire family outing at the lake.
Gellatly Nut Farm and Gellatly Recreation Corridor | 2375 Whitworth Rd
A common theme here – shade and room to run! Enjoy some wonderful shade on a sunny day as you walk through the nut trees and enjoy the breeze off the lake. It is also a large, flat area where kids can enjoy a safe run through the trees. Head towards the water and there is a great playground and beach area. Fancy a walk? Head south along the walkway in front of The Cove Resort and enjoy this easy, flat and stroller-friendly path along our beautiful West Kelowna waterfront. Walk from the nut farm to the CNR Wharf and back. Those with older kids can enjoy the swimming playground the wharf provides. And the off-leash dog beach is a few steps away for your furry family members as well!
Pritchard Park | 1587 Pritchard Dr
This lakeside park has a playground, shade, beach, grass, trees, washrooms, a beach volleyball court and more! It is a gem on the Westside for so many reasons and it is worth checking out. It is also getting a facelift as new beach volleyball courts were just put in and a new larger accessible playground is set to be installed by this fall.
Just 4 Fun Playcentre | 2374 Bering Rd
Need a break from the sun and heat? Enjoy the AC and let your kids run wild at Just 4 Fun Playcentre.
It boasts 5500 square feet of energy burning fun including a huge toddler area with soft play equipment and a three-level adventure cube. This is a great indoor playground on the Westside that even has a smaller baby/toddler-friendly section. Bring some snacks with you or there is a small concession inside to grab snacks, some lunch or drinks. Just remember, socks are required.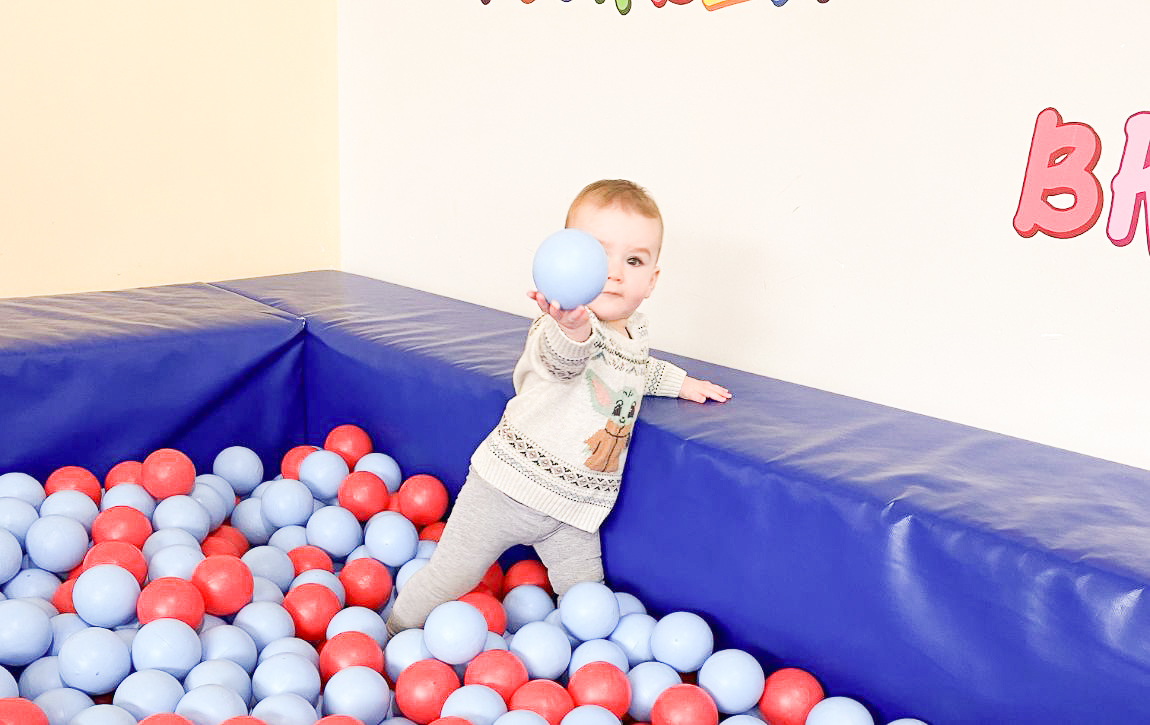 Park Play Days & Dome Play Days | various locations
During the summer months of June, July and August, the City of West Kelowna hosts outdoor Park Play Days at various parks throughout the community. This is a free drop-in program for kids (ages 0-5) and their parents/caregivers.
From September – April the fun moves indoors to the Multi Sport Complex/Dome (or the big marshmallow as the kids call). The Dome Play Day is $2 per kid/per drop-in and is located at 2139 McDougal Rd. This fun program is a great way for the little ones to burn off some energy. They take place on Tuesday, Wednesday and Thursday mornings and more information can be found at www.westkelownacity.ca/parkplaydays.
Note
This list is just a few of the best baby and toddler-friendly spots we've enjoyed this summer, but there are so many more to explore on the Westside! Check out all the playground and park options at www.westkelownacity.ca/parks and more places to enjoy at visitwestside.com. Remember to use the #VisitWestside hashtag or tag us at @VisitWestside when you are exploring things to do in West Kelowna for kids.