The Top Spring Hikes in West Kelowna
West Kelowna has a pretty strong hiking game when it comes to our trails. From hillside treks and fields of flowers to waterfalls and stunning panoramic views, our trails are easily accessible from our town centre and offer up a variety of hiking terrains.
If hiking isn't your thing and you would rather explore the trails on wheels the Smith Creek Trail network or Rose Valley Regional Park are fantastic areas for mountain biking.
With over 636 hectares of parks and recreational space, it shouldn't be too hard to find a trail. Most of the trails in our area are rated moderate, with a few easy and difficult trails.
Glen Canyon Regional Park (south)
Trailhead address: 4262 Gellatly Rd (main parking area | access also via Herbert Rd and Brown Rd) | Easy and Moderate rated trails
Why You Need to Go: This hike is perfect for those who want to see a waterfall without having to hike a long way. View the Powers Creek Falls from above on the Powers Creek Falls bridge. The trail in this park takes you through treed areas, over wooden paths, and up and down some wooden staircases.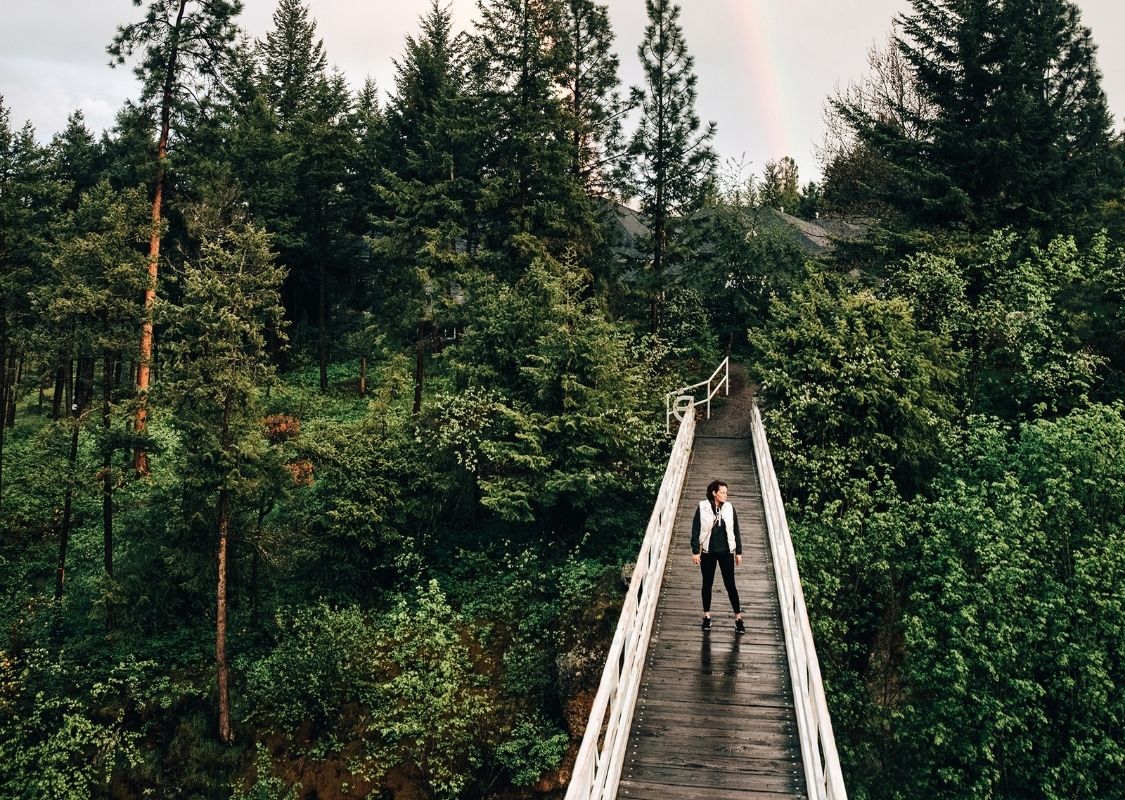 Goats Peak Regional Park
Trailhead address: Seclusion Bay Rd | Moderate and Difficult Trails
Why You Need to Go: The lookout at the top and the views are worth the narrow zig-zag climb to the top of the Mountain Goat Trail. Get warmed up by taking The Big Sagebrush Trail, which is a wide gravel path that goes downhill and connects to the Mountain Goat Trail. These trails are exposed so be sure to wear sunscreen and bring water, even during the spring months.
Kalamoir Regional Park
Trailhead address: end of Collens Hill Rd | Easy and Moderate Trails
Why You Need to Go: In the spring the hillsides of this park are filled with spectacular yellow colour from the Arrowleaf balsamroot flowers. From a waterfront stroll to hillside trails, the pretty yellow flowers can be seen throughout your hike. If you want to capture the yellow sea of colour, aim to hit the trails in the early morning or late afternoon when the sun is lower in the sky.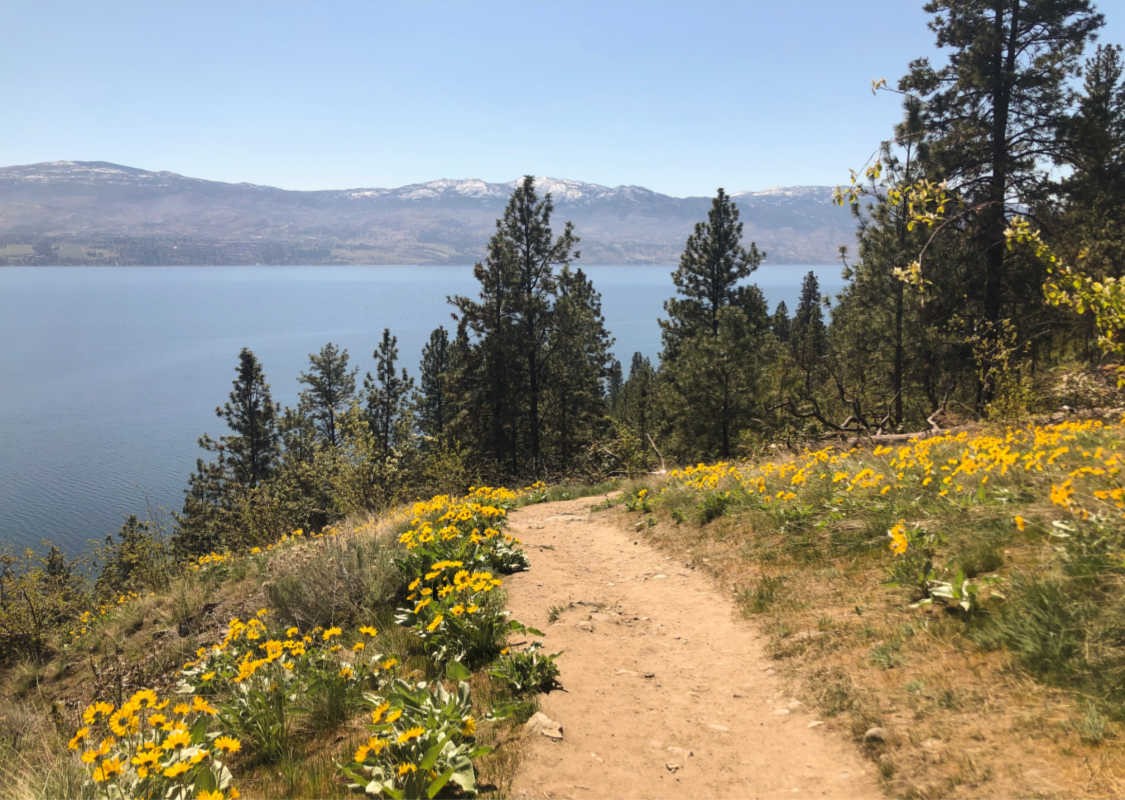 Boucherie Rush Trail
Trailhead address: 2775 East Boundary Rd | Moderate to Difficult Trail
Why You Need to Go: This trail is on Mt Boucherie, a dormant volcano and is close to town. It gets your heart pumping and offers some pretty amazing views of West Kelowna, Gellatly Bay, and Rattlesnake Island. The switchbacks make the elevation easier to handle and the trails are very well maintained.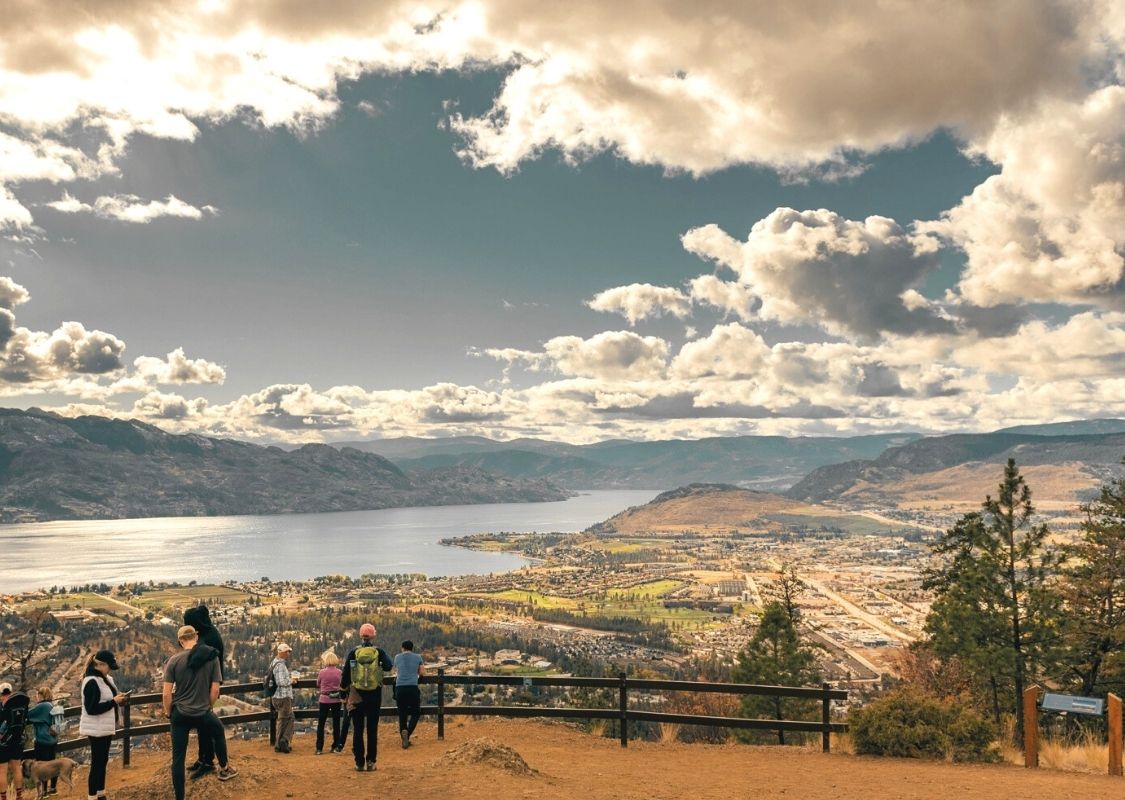 Bear Creek Provincial Park
Trailhead address: approximately 5 km up Westside Rd | Easy and Moderate Trails
Why you need to go: This provincial park has three different looped trails, ranging in difficulty from easy to moderate. It is a perfect hike if you want to enjoy a scenic hike and it features a waterfall, two bridges, and three sets of staircases.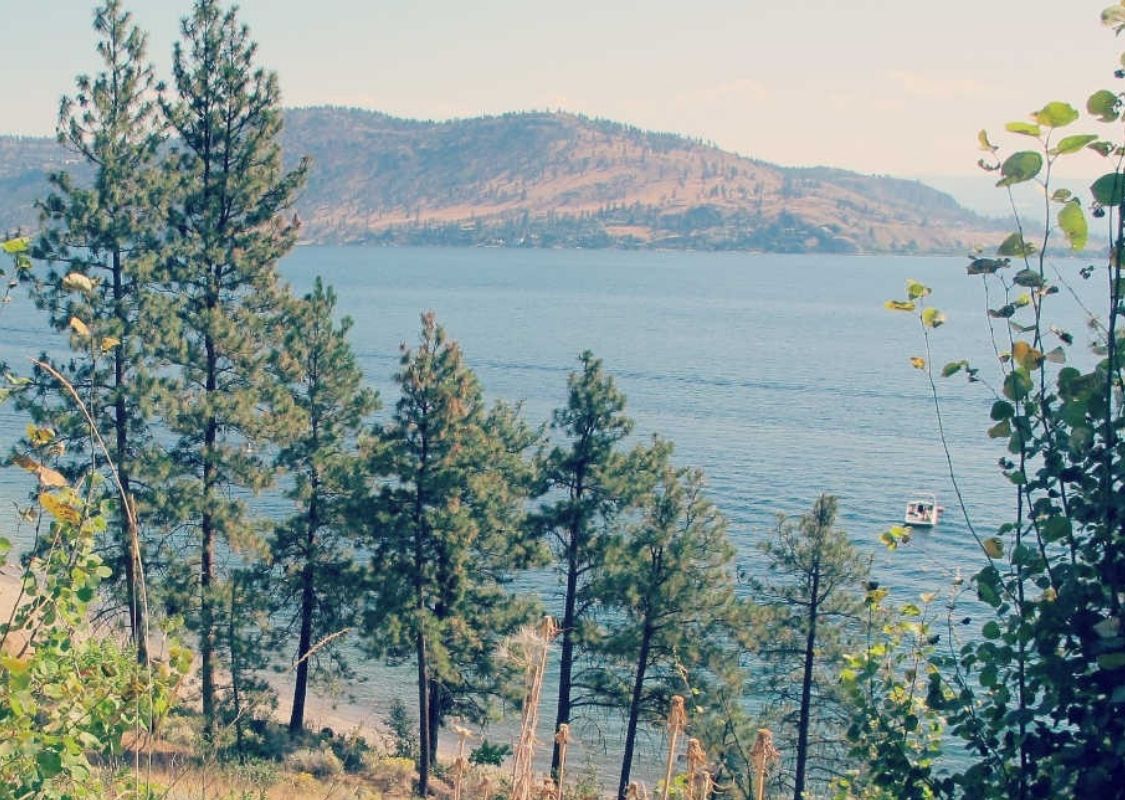 Rose Valley Regional Park
Trailhead address: 2040 Westlake Rd or 1949 Rosealee Lane | Moderate and Difficult Trails
Why you need to go: Wildlife, bird watching, and views sum up this large regional park. There are several different trails to take, some looped and some point-to-point, with the Bitterroot trail looping around the summit area. It is important to know that the trails are multi-use and it is a popular mountain biking area. Trails such as City on the Edge of Forever are used by bikers on the descent, so beware of which trails are primarily mountain biking trails.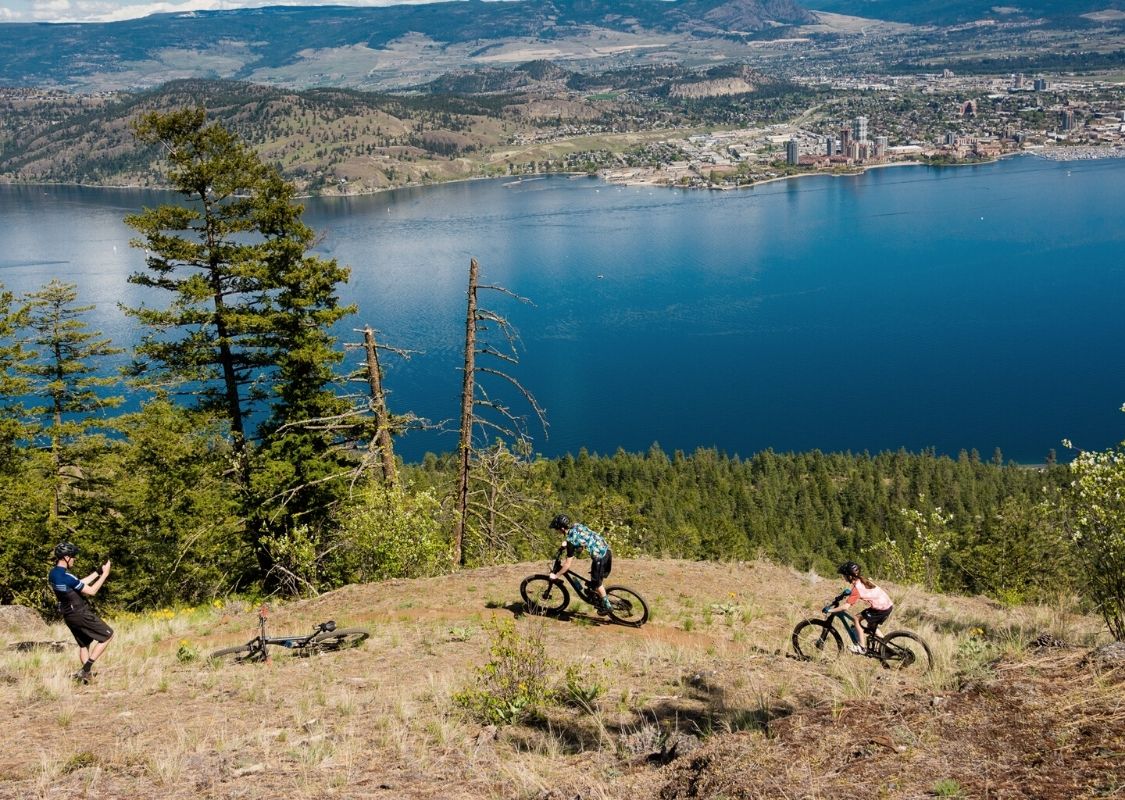 Smith Creek Trails
Trailhead address: end of Smith Creek Rd | See trailforks.com for trail information – please note that this time of the years the trails can sometimes be soft and muddy and it is best to not ride on them in those condititions.
Why you need to go: If you are a mountain biker, Smith Creek has some of the best mountain biking in the Okanagan. The semi-arid conditions of this trail network result in high-speed trails for a super flowy ride.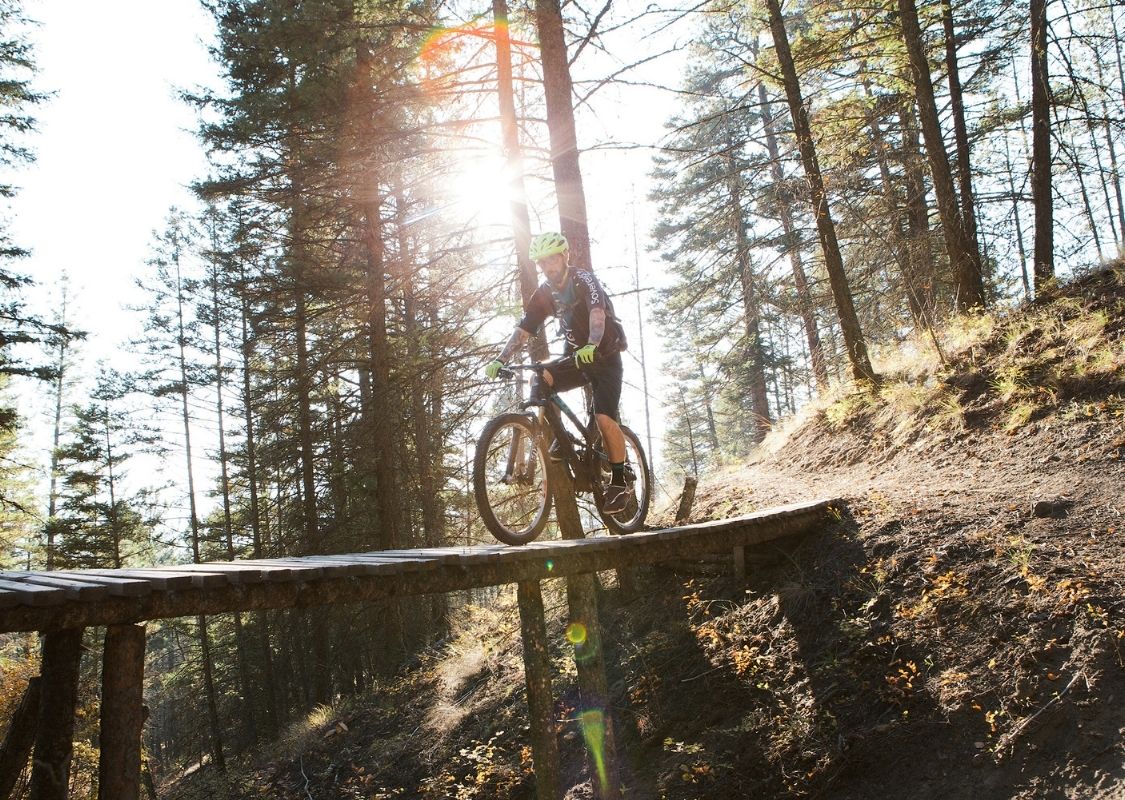 Bird Watching

Did you know that over 240 different species of birds have been spotted on the Greater Westside? Next time you go for a walk along the waterfront or a hike in the woods, do it with a purpose and try to spot and identify some birds. We have a Birding Map & Guide that may help you. Digital downloads are available on our website, or stop by the West Kelowna or Kelowna Visitor Centres to grab a copy.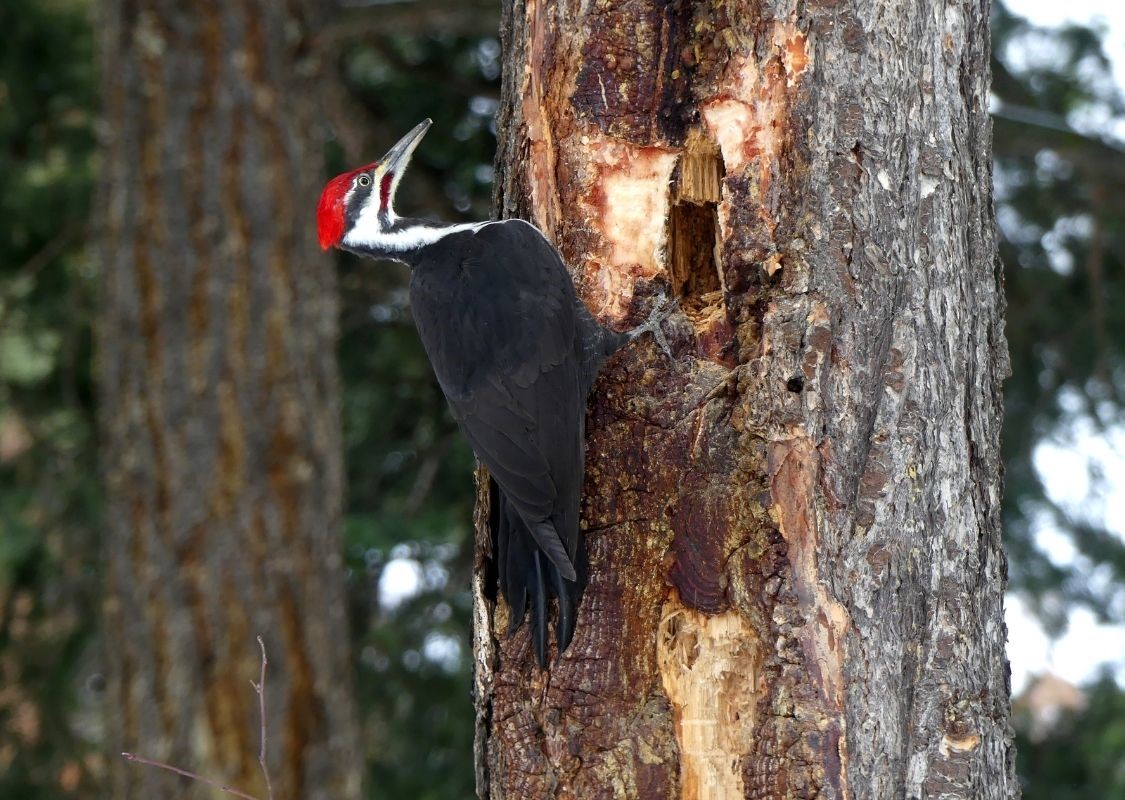 TIPS FOR SPRING HIKING & BIKING
Trails can be slippery from spring runoff and rains, so be sure to have sturdy footwear with a good tread.
If you are biking, check out trailforks.com for the latest trail information. We have an active biking community that regularly updates the mountain biking trail conditions on this website. If the trails are too soft and muddy it is best not to ride them as it damages the trail.
Spring is tick season, here are a few tips to be Tick Smart.

Walk on trails and avoid walking through long grass
Wear long sleeves and pants and light coloured clothing
Use an insect repellent containing DEET on exposed skin
Inspect your clothing and skin to see if there are any ticks on you. If you do see one, remove it yourself with tweezers and remember to remove the whole tick and avoid squeezing its body.
PLAN YOUR TRIP TO WEST KELOWNA
Be sure to follow us on Instagram or Facebook for more ideas on what to do and see when visiting our friendly city.